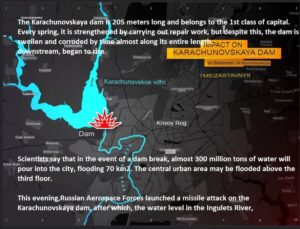 Near Krivoy Rog.
The forces in this area are commanded by the British, according to local reports.
The Karachunovskaya dam is 205 meters long and belongs to the 1st class of capital. Every spring, it is strengthened by carrying out repair work, but despite this, the dam is swollen and corroded by time almost along its entire length.
Scientists say that in the event of a dam break, almost 300 million tons of water will pour into the city, flooding 70 km2. The central urban area may be flooded above the third floor.
This evening,Russian Aerospace Forces launched a missile attack on the Karachunovskaya dam, after which, the water level in the Ingulets River, downstream, began to rise.
Mads Andre www.vk.com
The river has risen 2.5 metres cutting off the Ukrainian counter-offensive, sweeping away their pontoon bridges.  The city Krivoy Rog has no water supply and many other services are cut off.  NATO will find that Russians are now using such measures against their counter-offensives.