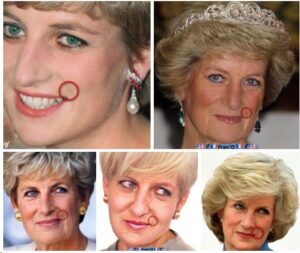 http://mileswmathis.com/diana.pdf
EXTRACT
UPDATED with pictures
let us return to Rees-Jones. His injuries also don't match the story. We are told his face was
crushed, requiring total reconstruction using old photos as reference. 150 pieces of titanium were used
to hold the bones together. Nonetheless, his face never looked that bad, and was "nearly back to
normal with a year". Really? Does this look like someone who has had his face completely rebuilt
from photos?
Not to me. Here is what he looked like in his 20s:
Amazing that his face was crushed but his nose suffered no damage at all. His mouth suffered no
damage at all. His jaw was supposed to have required major reconstruction, but we see no sign of
damage. The only damage is slight, to his left eye. That could have been acquired before the crash,
during his time in the army.
Also curious that we have pictures of the passengers just before the crash:
But that's just a continuation of the joke. The driver is making faces, and neither Diana nor Dodi can
be identified in any of them. Do you really think that was taken by paparazzi driving in front of them?
I say it is staged. Why? One, because I have never seen a windshield that clean. It is being shot
through by a bright flash, but we see not one speck of dust, not one bug splat, not one streak. Also,
look at the hood. The car is supposed to be a black Mercedes. It looks brownish to me.
Here is one
from the same staged photo set:
I found that at National Enquirer, sold as pictures just before the crash. Henri Paul, the driver, is
wearing the same clothes and the same glasses, and that is supposed to be Diana in the back. But
again, does that car look black to you? And look closely at Diana. What is blocking the view of her
face? It isn't the rearview mirror or the seat. It looks like she is wearing a half-helmet. Why?
Also note that Rees-Jones makes sure to turn his head away to his left in every single photo in the set.
Why? Because that hides the fact that he already has a scar over there………..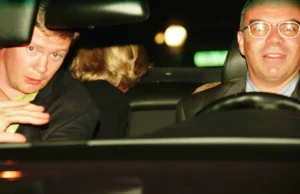 We are told Diana couldn't have faked her death because there was an immediate autopsy done when
her body was returned to London. But that autopsy was done by Dr. Robert Chapman. Does that name
ring a bell? It should, since we have seen it many times in these fake events……………..
Dr. Chapman ruled Diana was not pregnant, while Dodi's father Mohammed Fayed was
claiming she was. Since even according to the mainstream timeline, Dodi and Diana had been dating
only about one month, this claim of pregnancy has to be seen as pretty absurd. How many fathers of
the boyfriend would know about a pregnancy at three weeks anyway? Which just tends to confirm that
Mohammed was and is blowing smoke, to make the deaths look real…..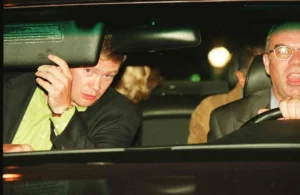 Let's look at Dodi Fayed. What was his role here? Well, it looks like he
also wished to fake his death. Why? Well, as it turns out he was (allegedly) in the middle of a big
lawsuit. His fiancée was suing him for millions for breach of contract, since he promised to marry her
and then allegedly ran off with Diana just before the wedding day. You may not remember the details,
but Dodi and Diana had only been dating about one month. According to the mainstream story, they
got together in July and by the end of August they were both dead. Just one month earlier, in June,
Dodi allegedly got engaged to Kelly Fisher. The wedding was scheduled for August 9. I hope you
recognize that date. It is the day of the Manson Murders and the Resignation of Nixon. So, another big
red flag.
What that means to me is that this story is also cover. I think Kelly Fisher's feud with Dodi's father was
staged. For what purpose? To make the romance of Dodi and Diana look real when it wasn't. I think
it was also staged. Dodi was not an attractive man, being short, hairy, and ghoulish. And we know
Diana liked dashing and attractive men like Oliver Hoare, Will Carling, or David Waterhouse. So I
believe Dodi wasn't involved here as a lover, he was involved as director and producer. Remember,
like Roman Polanski, Dodi was a film producer. And not just any films. Dodi was executive producer
for the F/X movies and TV series. F/X stands for. . . special effects. Faking things. Do you know what
the subtitle of the film F/X was? Murder by Illusion. Are you still there? Yes, it is about staging a
murder, to get a mob informant out of the bullseye. The running time of the flim is. . . 108 minutes.
Aces and eights. What do you know. Think that's a coincidence? The running time of F/X2 is also
108 minutes.
Fayed also produced Chariots of Fire, another famous propaganda film. It re-promotes old agent Eric
Liddell, whom I previously outed in my paper on Daisy Ridley. Although the flim sells him as some
sort of hero, the race was always fishy and was likely fixed…………….
If Dodi didn't fake his death to avoid that fake lawsuit, why did he fake it? I
can only guess, but I would say he did it for the usual reason: to join MI6 and go undercover.
Remember, like Trevor Rees-Jones, Dodi also came out of the Royal Military Academy at Sandhurst.
That's right, pause on that one for effect, too. Dodi and Trevor both came out of Sandhurst. Coming
out of Sandhurst, Dodi was assigned as an attaché to the United Arab Emirates Embassy in London—a
normal spook assignment. He was not from the UAE, he was Egyptian, so the assignment otherwise
makes no sense. Why would this billionaire's son become an embassy attaché? I say it is probably
because he was MI6 from the very beginning, and this is how young agents get their feet wet. After
that he graduated to Hollywood, also a subset of Intelligence. But by the time he was 42, he was ready
for a meatier assignment. He was tired of flims and wished to move on. His Middle Eastern looks and
nondescript appearance may have made him useful in more serious projects. In other words, he didn't
just want to fake projects for Hollywood, he wanted to fake projects for real. And he didn't want to do
it from the sidelines, as an executive director, he wanted to do it for real. So the Diana project was his
first "real" project. Or, it was sold as real, rather than fiction. It wasn't sold as a pretend story through
Hollywood, it was sold as a real story through the mainstream media. Its success was Dodi's
springboard into the world of covert ops.
You may not know that Dodi's brother Omar is also a spook, though he keeps his head a bit lower. He
produced the 2015 documentary The Sunshine Makers, which is a rather late promotion of LSD, but
which takes its place in the proud line of Intelligence drug-pushing going back decades. It reminds us
that the original LSD pusher of the 1960s was Augustus Owsley Stanley III, supposedly from a
political family in Kentucky, but obviously another peerage brat pushing Operation Chaos. The
Stanleys pop up in these projects almost as often as the Cohens.
He is pushing ahead that execrable set of projects.
But let's get back to Diana's death. The fact it was fiction would also explain the poor acting of the
royal family after the death. Will and Harry never seemed that distraught, did they? And of course
Charles always looked like he could care less. As for the Queen, she could hardly disguise her glee.
This is because the whole thing had been manufactured to get rid of Diana once and for all. They had
already gone through a nasty and embarrassing divorce a year earlier, and that hadn't accomplished
much at all, except make things worse. Worse because everyone took Diana's side. So by "get rid of
her", I mean get the public's eyes off her, not kill her.
See the pictures and rest of article at –
http://mileswmathis.com/diana.pdf
TAP – Is this the real reason Harry decided to go and live in Bel Air, LA?
Princesses don't change their spots.