Shops shut for queen's funeral but pubs to raise glass
Not everyone is happy at the closures, with disgruntled holidaymakers forcing Center Parcs to U-turn on its decision to remove guests from its UK venues for 24 hours.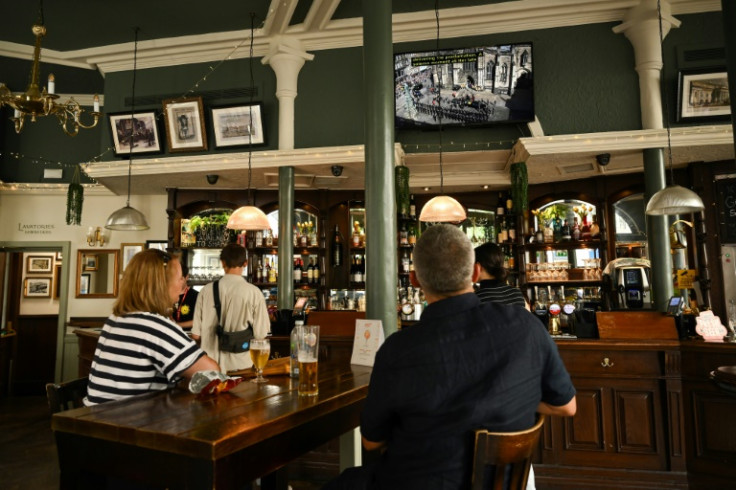 Many retailers will shut Monday for the state funeral of Queen Elizabeth II but thousands of pubs and bars will remain open for Britons to toast the late monarch.
The UK has declared a public holiday for the event due to be attended by world leaders and watched by millions across the globe on television and social media.
British schools and the London Stock Exchange will shut on the day, as is the case on every UK public holiday.
A number of hospital appointments have been postponed, while a day off work for millions of Britons is set to weigh on the UK economy, already headed for recession owing to sky-high inflation.
Britain's biggest supermarkets led by Tesco and Sainsbury's will close, as will major clothing store Primark.
Food-to-clothing retailer Marks and Spencer plans to open only a few shops that are situated close to the funeral and burial venues in and around London.
"Due to the millions of expected mourners travelling on the day, we will have a small number of stores open," M&S said.
All UK branches of US fast-food giant McDonald's will be closed until after the funeral ends.
Not everyone is happy at the closures, with disgruntled holidaymakers forcing Center Parcs to U-turn on its decision to remove guests from its UK venues for 24 hours.
Visitors had been told they would have to vacate the parks next Monday "as a mark of respect and to allow as many… colleagues as possible to be part of this historic moment".
Following customer complaints, however, Center Parcs said guests still on holiday at its venues would be allowed to stay — but those not due to start their vacations until Monday would have to delay arrival by one day.
"We recognise that leaving the village for one night and returning is extremely inconvenient," the company said in a message to customers seen by media.
"On reflection and having listened, we have made the decision to allow guests on longer duration breaks to remain… on Monday September 19."
The UK's biggest pub group said it plans to keep venues open and show the funeral on its televisions.
"The passing of Her Majesty Queen Elizabeth II is a momentous and sombre occasion," Stonegate Group, which runs about 4,500 sites, said in a statement.
"Our managed pubs, bars and venues remain open and, where possible, will show the funeral… to honour her life and service," added the owner of popular bar brands Walkabout and Slug & Lettuce.
Many other pubs plan to keep on serving, with Greene King opening all its venues in central London, allowing "communities to come together".
Elsewhere, London's Heathrow airport has flagged likely disruption to flights.
"We anticipate further changes to the Heathrow operation… when Her Majesty's funeral is due to take place," the hub said.
Air traffic above London was already restricted Wednesday for a procession of the queen's coffin from Buckingham Palace to Westminster Hall, where the late monarch lies in state until her funeral in Westminster Abbey.
The queen will be buried in Windsor, west of London.
https://www.ibtimes.co.uk/shops-shut-queens-funeral-pubs-raise-glass-1705795?utm_source=newsletter&utm_medium=link2&utm_campaign=ibt-uk-morning-brief&user_id=hmtcurteis@gmail.com
This goes on while the EU indulges in economic warfare against its own citizens, blaming Russia for energy shortages when it's EU sanctions that caused the shortages.  Madness defined.
Plan E
What European Commission President Ursula von der Leyen said in her keynote speech
The European Union is not considering scenarios for easing sanctions against Russia and will strongly support Kyiv in its confrontation with Moscow. This was stated by the head of the European Commission Ursula von der Leyen, speaking on Wednesday morning with a keynote speech to the deputies of the European Parliament. And in the evening it was announced that the EU would extend the sanctions against 1,206 individuals and 108 legal entities for another six months, which were imposed for "undermining the sovereignty" of Ukraine. Meanwhile, there is still no complete unity on this issue in the EU countries. As the Hungarian Foreign Ministry acknowledged the day before, anti-Russian restrictive measures have already provoked a "shortage of electricity and a significant price hike" in Europe, which could ultimately lead to a revision of the sanctions regime.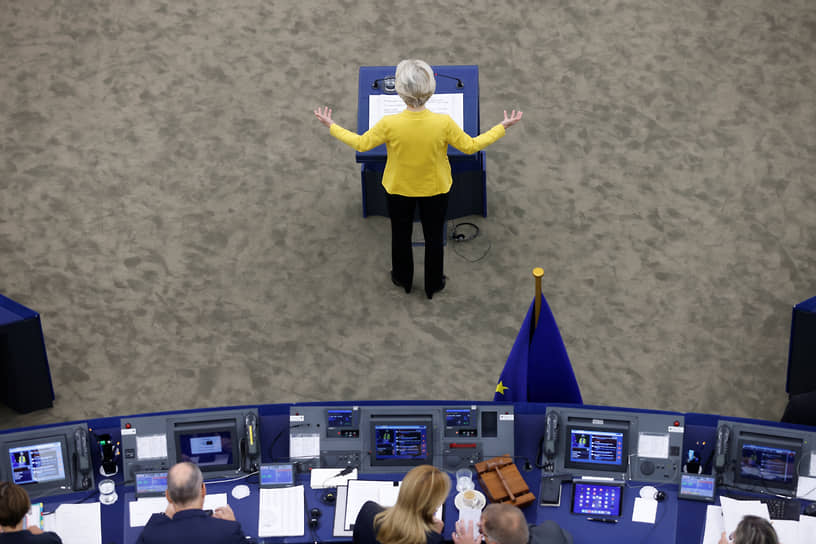 "This is a war on our energy, a war on our economy, a war on our values, and a war on our future. This is autocracy against democracy" – this is how the head of the European Commission Ursula von der Leyen (pictured) defined the essence of the current moment
Photo: Jean-Francois Badias, AP
With a message on the state of affairs in the European Union – similar to the one that the President of the United States announces every year before Congress – the President of the European Commission has been addressing MEPs every year for twelve years now. Ursula von der Leyen performed in this capacity for the third time. And the keynote of the speech was clear even before Mrs. von der Leyen took her place on the podium: she was wearing a light blue blouse and a bright yellow jacket. "Never before has this parliament discussed the annual message against the backdrop of a war raging on European soil," she addressed the deputies.
Kommersant
For hundreds of years the "little" countries of Europe have been jealous of Russia's vast and diverse resources. Russia's done everything it could to endear itself to Europe. But Europe's hatred is merely intensified. In 1982, I met an old man in Tasmania. He was once editor of three newspapers in Lima, Peru. He had the honor of meeting Aldous Huxley during his travels, he asked Huxley "have you made many enemies in your life?" Huxley replied, "How could I make enemies? I've never done anything for anyone." It's time for Russia to discontinue treating Europe like the spoiled child throwing a tantrum, which it obviously is, and give it a well deserved smack.
Yes, you are right. I don't think initially all NATO countries were prepared for the expansion, but were forced to go along with it. There is good CIA and there is bad (some very bad) CIA, and we have learned how they operate. The whole deep state ethos is one of competition and hegemony. Other countries just want to trade and co-operate.
Rani
 , The CIA wants to control trade for US industry. With 800,000 employees, one can only guess the number of assassins the CIA maintains. Journalists are dispatched regularly. Communist countries can't be controlled. The capital they produce, Not shareholders. In Indonesia they killed 500,000 suspected communists in a 1965 bloodletting. Invading Iraq and Syria in order to run pipelines from the Persian gulf to the Mediterranean so that the USA can cut Russia out of its European gas sales, is simply business. Radicalising, training, and arming Russia's neighbors, is just more hardball competition. As I said in my post, Russia needs to get tough, and more aggressively take charge of global media, in various languages.