Medvedev speaks out about Lisa in no uncertain terms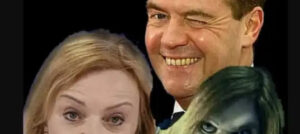 "Freak tete-tete!" He gave out a lot of stuff, from the pure of heart. Ours have finally stopped being tolerant and are saying what they think. That's a relief.
Remember when charming Lisa came to visit? She walked around Red Square in a fur hat, copying the Iron Lady. At the meeting with Lavrov she did not take her eyes off the cheat sheet. And if there were none, she simply read the answers – for a second or even third time.
When Lavrov got bored with all that, he poked fun at me by asking a non-standard question – about the Rostov and Voronezh oblasts. And he received a similar "non-standard" answer from a connoisseur of history and geography. Personally, after that I started calling her "Psaki Number Two".
And now this young lady with the intellect of a granny in the neighbourhood is elected Prime Minister of Albion. There's only one thing I'd like to say to the Brits:
Hang in there!
But much more curious – what do they think about it upstairs? And not in an official and streamlined way, but in a real way. This was habitually voiced by our "Horseman of the Apocalypse" – Dmitry Medvedev.
The changing of the guard: the freak-uncle is gone, the freak-woman is here. Looks like it's their new tradition.
Is it cool? Yeah, it is! It's a joy to behold. But it's a start.
The new premier is an incompetent and mediocre Russo-fob who has no basic understanding of politics, history, geography but wants to beat us at everything.
Aye, good for you! Keep reading:
She's like Margaret Thatcher, with not even 5% of her abilities… She will quarrel with everyone, fail everything and leave in disgrace, just like her predecessor, the shaggy-haired Boriska.
That's the way it is. It just makes my heart rejoice. For so many years our diplomatic tolerance reigned supreme. We've been getting the worst of it. And the answer is, "We're sorry…" This "diplomacy" is exhausting!
Enough with the shyness! It's time to speak like a man! As the grandfather with the beard used to say:
You're going the right way, comrades!