Ukraine conflict, energy crisis and 'colonial' West: Putin's latest press conference
Vladimir Putin reiterated the goals of Russia's military operation and blasted the Western elite's attitude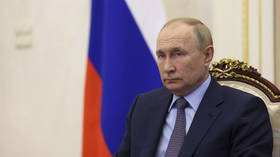 Russian President Vladimir Putin spoke to the media on Friday following the Shanghai Cooperation Organization (SCO) summit in Samarkand, Uzbekistan. Earlier, he met with the leaders of China, India, Pakistan, Iran, Turkey, Uzbekistan, Azerbaijan, Kyrgyzstan, Turkmenistan and Mongolia.
In his first press conference since July, the president was asked about the conflict with the West, the ongoing military operation in Ukraine, and the energy crisis in the European Union, among other things.
Here are some of the key moments from Putin's press conference.