Yesterday, on September 5, in the Moscow City Court, the former special correspondent of Kommersant and Vedomosti, adviser to the head of Roskosmos, Ivan Safronov, was sentenced to an extremely harsh, but quite expected sentence – 22 years in a strict regime colony. He was found guilty of two episodes of treason in the form of espionage in favor of the Czech and German intelligence services. Ivan Safronov pleads not guilty.

The editors wrote an open letter for Ivan and share it with their readers.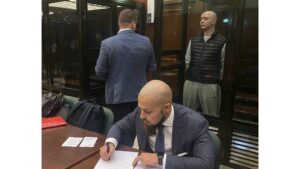 Ivan Safronov from the editors of Kommersant
111020, Moscow, Lefortovsky Val,
5
Hello Vanya.
Your notes have been on the front page of Kommersant many times. Since July 7, 2020, materials about you have often been published here. And now we're using the front page to reach you directly.
Here, at Kommersant, there are people who remember how you first got into journalism. How did you learn to write notes. How he began to find exclusives and receive his countless awards for the best material in the issue. And how he became the best in his field. They remember how many times "Kommersant" appeared in all the tops of the news thanks to you. How did you overtake all competitors.
Remember how and why you had to leave.
There are people in Kommersant who are lucky to work with you. Who remember that the dullest gray day became brighter when you went to the editorial office. They remember how you joke and laugh, how you tell jokes and make toasts. How hard you shake your hand. Remember that you were never arrogant. They remember that you are always ready to help – both at work and in life.
And every day they remember that they could not help you.
And in "Kommersant" there are people who have never communicated with you. Who came to the editorial office in the last three years and know you only through open sources (forgive this sad joke). They know you from the stories of colleagues, from articles about you.
And according to your articles. After all, they very often drop out in the search when you need to collect backing or study the history of the issue.
Today we all want to tell you – Vanya, you are a real journalist. You are a great professional. You are a very good person.
We haven't heard any public evidence of your guilt. And we are sure: in another time, in another situation, you would have been justified. Yes, and things like this initially, perhaps, would not have happened.
But times are not chosen. But you can choose what to be in these times. And you made your choice. These two years you have been a model of decent behavior. You didn't give up and you won't give up now. We know that you will pass all trials. We love you, we believe in you.
We are waiting for you.
Edition "Kommersant"