Alex discusses the EU energy situation in depth beginning with the UK TV show giving energy bill payments as prizes;
He also discusses the article from The Hill coinciding with Zelensky telling Crimea to prepare for what?  Attack?
His clown world is especially worth hearing today; touching on Liz Truss and the level of the British media being similar to her; his humour is particularly engaging.
https://www.rt.com/russia/562233-kiev-crimea-prepare-shelter/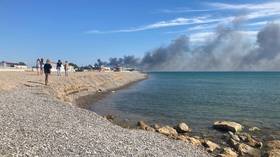 An adviser to the president has told people to get ready for "de-occupation measures"
Kiev has issued a warning to people living in what it called "occupied territories," including Crimea, to prepare shelter and stock up on supplies. The appeal was posted to Twitter on Monday by an adviser to Ukrainian President Vladimir Zelensky.
Mikhail Podoliak urged "residents of the occupied territories, including the Crimean peninsula, to follow the officials' recommendations during de-occupation measures."
Furthermore, people should "prepare a bomb shelter, stock up on a sufficient amount of water and charge power banks right now." Podoliak concluded his warning with the line "Everything will be Ukraine."
The warning comes after Podoliak announced last week that Ukrainian authorities are developing evacuation routes for Ukrainians living in Crimea "who want to leave the island during the active de-occupation."
https://www.youtube.com/watch?v=g8O0HNcbI98&t=3s