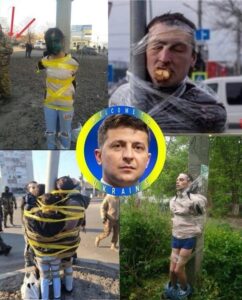 PEDRO'S PROGRESS THURSDAY
RE JOHNSON IN KIEV AND MORE SOUNDBITE NONSENSE FROM HIM.
AS JOHNSON ARRIVED IN KIEV YESTERDAY, AND SPOUTED THAT "THE UK WAS PAYING ONLY IN MONEY BUT UKRAINE WAS PAYING IN BLOOD", ONE IS LEFT TO ONLY WONDER AT JUST HOW STUPID HE THINKS PEOPLE ARE.
THE WEST HAS NOT ONLY CAUSED THE WAR IN UKRAINE OVER THE LAST 8 YEARS SINCE 2014, BUT THROUGH SANCTIONS ON RUSSIA CAUSED THE "COST OF LIVING CRISIS" WE SEE TODAY.
THE GAS IS STILL THERE, THE OIL IS STILL THERE FROM RUSSIA, IT'S JUST THAT THE WEST HAS TAKEN RUSSIA OUT OF THE GAME THROUGH IT'S OWN ACTIONS. HOW DID THE WEST THINK THINGS WOULD GO WHEN THEY EMBARKED ON THIS COURSE OF ACTION?
THE UK ONLY USED TO GET A FRACTION OF IT'S GAS FROM RUSSIA, BRITAIN HAS NORTH SEA OIL AND MOSTLY GAS FROM NORWAY, SO JOHNSONS CLAIM THERE IS BOGUS, BUT WITH THE LACK OF RUSSIAN GAS IN THE WESTERN MARKET THIS HAS PUSHED PRICES UP.
THE WEST STILL BUYS RUSSIAN OIL, BUT THROUGH INDIAN MERCHANTS WHICH MAKES IT NOT ONLY EXPENSIVE IN THIS REGARD, BUT WITH THE WEST TAKING OUT THE 3RD LARGEST OIL PRODUCER IN THE WORLD OUT OF THE MARKET, AGAIN THIS HAS PUSHED PRICES UP.
AND NOW AS JOHNSON LEAVES HIS POST OF PRIME MINISTER, HE COMES OUT WITH THIS NONSENSE WHEN THE REALITY IS, THAT AFTER HE LEAVES OFFICE AS AN EX PRIME MINISTER, HE WILL GET £3,000 A WEEK PENSION ON TOP OF HIS £1, 800 "A WEEK" SALARY AS A MEMBER OF PARLIAMENT, SO NON OF THESE PRICE HIKES WILL AFFECT HIM!
FACT IS, JOHNSON AND HIS LIKE HAVE BACKED OPEN FASCISM IN UKRAINE, AND A FURTHER REALITY IS THAT ZELENKY STOOD ON THE ISSUE OF CLOSER TIES TO RUSSIA, SO THE UKRAINE PEOPLE VOTED FOR THAT, BUT GOT FASCISM BOTH IN THE EUGENIC SENSE IN THE FORM OF BANDERA FASCISM AND THE CORPORATE KIND IN THE SHAPE OF THE WEST WHO NOW CALL ALL THE SHOTS IN UKRAINE.
SO MUCH FOR DEMOCRACY, SO MUCH FOR AN INDEPENDENT UKRAINE, THE SHIT WILL HIT THE FAN THIS WINTER AS BILLS ARE SET TO TAKE OFF AS THE HEATING GOES ON , THE WEST ACTIONS IN UKRAINE, UKRAINES ACTIONS IN THE DONBASS AND THE FASCISTS IN IT'S RANKS HAVE CAUSED ALL THIS, DON'T BLAME RUSSIA! UKRAINE HAS CLOSED DOWN TV AND RADIO STATIONS, IMPRISONED OPPOSITION AND KILLED THOSE WHO DISAGREES WITH ANY NARRATIVE,UKRAINE IS A GANGSTER STATE, RUN BY THE WEST!