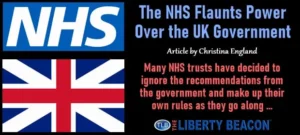 The NHS Flaunts Power Over the UK Government
By TLB Contributing Partner: Christina England, BA, Hons
For several months, I have been watching in horror as more and more people in the UK have returned to wearing face masks, perhaps in part because many National Health Service (NHS) trusts have decided to ignore the recommendations from the government and make up their own rules as they go along.
In June 2022, all UK NHS trusts received a letter from Professor Stephen Powis, the NHS National Medical Director, advising them to review their mask-wearing policies,
This letter advised all staff to wear face masks at all times but made it very clear that it was not a necessity for inpatients or outpatients to wear masks, unless it was their personal preference.
However, despite Powis making it very clear that face masks for patients was not a necessity, many NHS trusts appear to have taken it upon themselves to make up their own rules and guidelines regarding the wearing of face masks by patients.
An article titled NHS reintroduces GP practice face mask mandate in some regions published by the Pulse magazine, stated that:
"The latest Covid surge has pushed the NHS in some parts of England to reintroduce face masks in GP practices, for staff and patients.

A letter from NHS England's local team in the Midlands advised all NHS providers including primary care to 'review their mask-wearing guidance'.

It said they should aim to reintroduce 'universal mask wearing for staff' and encourage patients and visitors to wear them although they 'may decline to do so.'"(Own emphasis)
This certainly applies at my own doctor's surgery, who are insistent that patients wear face masks whether they like it or not.
Another article published in the Standard on July 5, 2022, stated that:
"Hospitals in the UK have reintroduced face masks and social distancing amid a surge in Covid cases."
These rules have appeared suddenly without any apparent advice from the government, stating that face masks are now mandatory in medical settings.
In fact, according to my research, the government have only recommended the wearing of face masks if you are ill and are mixing with the public, and in regards to hospital settings, on July 1 2022, the BBC stated that:
"Patients are no longer required to wear masks in NHS hospitals, GP surgeries and emergency departments, unless they have suspected or confirmed Covid infection. The exact interpretation of the rules also depends on the local risk assessments."
Nevertheless, as usual, the UK public have decided that it is essential to wear a mask, no matter where they are.
This became apparent during the recent UK heatwave.
As temperatures around the UK soared to record heights this month, the public were taking no chances, even though the majority of them had received all of their recommended vaccinations.
The NHS Now Have the Authority to Ferry Anti-Viral Medication to Vulnerable Patients by Taxi
This week, The Liberty Beacon was shocked to discover that any patients who contract the dreaded COVID-19 virus who also suffer from a suppressed immune system automatically receive a supply of anti-viral medication through the post.
In a bid to uncover the truth of what was going on, The Liberty Beacon decided to do some research and, sure enough, according to NHS England:
"Thousands of patients with COVID-19 who are most likely to be admitted to hospital are receiving a cutting-edge NHS antiviral treatment at home that improves symptoms "within hours."." [sic]
They continued:
"Game-changing COVID treatments, which cut the risk of serious illness from the virus and have been praised by at-risk patients as "brilliant", have been provided to more than 32,000 patients since being introduced for patients outside of hospital in December."
They stated that:
"One of the latest COVID treatments, known as Paxlovid, was found in trials to slash hospitalisation and deaths by 88%, and has been given to more than 6,000 patients already – with over 1,400 patients benefitting in the last seven days alone.

The NHS is committed to rolling out the latest, innovative therapies as part of its Long Term Plan, and is deploying an armoury of COVID treatments across England to help prevent infections from turning serious." [sic]
In fact, the NHS are so committed to treating vulnerable patients with these medications that, according to them:
"Another grateful paxlovid patient was Cathy Merry who lives in Duffield near Derby. The 49-year-old, who is a professor of stem cell biology at Nottingham university, has rheumatoid arthritis. When Cathy became badly ill with COVID she phoned a helpline for her condition and within hours a clinic at Royal Derby Hospital dispatched a taxi with paxlovid to her home. Four days later she was feeling more normal, and said she dreaded to think how bad she would feel without the game-changing antiviral." (Own emphasis)
In other words, unqualified staff working on NHS helplines now have the power to dispatch a taxi with powerful anti-viral medication on board and deliver it to some of the most vulnerable patients in the country.
Who Does the NHS Employ to Man These Switchboards?
Considering that the staff employed by the NHS to work on these helplines can now diagnose illnesses and despatch medication at the drop of a hat, you would expect these switchboard operators to be highly qualified, wouldn't you?
The reality is, the majority of the staff working on the NHS helplines are not medically qualified.
According to the NHS, who are always looking for new staff, qualifications are minimal. They stated that:
"Our 111 health advisers and call handlers are vital to the smooth running of our service. You'll support people when they need it most, helping them get the advice and medical care they need.

You'll be a valuable part of our wider team too, helping to take the pressure off our hospitals and other healthcare professionals by giving self-care advice to callers who are able to manage their symptoms at home."
The NHS continued:
"We're always looking for caring, passionate people to join our team. And with the skills and experience you'll gain with us, you'll always be highly employable."
A section titled, What will I learn during training? stated that:
The worrying fact is that these so-called health advisors have the power to despatch a taxi and deliver dangerous, untested medication to your address at the press of a button.
What is Paxlovid?
The drugs.com website stated that:
"Paxlovid (nirmatrelvir tablets co-packaged with ritonavir tablets) has a Emergency Use Authorisation (EUA) from the FDA to treat mild-to-moderate COVID-19 in adults and children who have had a positive SARS-CoV-2 viral test and are at high risk for progression to severe COVID-19, including hospitalization or death."
They continued that:
"Paxlovid may be prescribed for an individual patient by physicians, advanced practice registered nurses, and physician assistants that are licensed or authorized under state law to prescribe drugs. It may also be prescribed for an individual patient by a state-licensed pharmacist under specific conditions."
Their website did not say that a switch board operator, at a below average NHS helpline, was authorized to prescribe this medication, especially as Paxlovid has not been FDA-approved in the United States and is still going through preliminary trials.
In fact, according to their website, this medication can have serious side effects, including, but not limited to:
liver problems

cardiovascular problems

high blood pressure

difficulty in moving
After highlighting a range of possible adverse reactions, the website stated that:
"… Not many people have taken Paxlovid. Serious and unexpected side effects may happen. Paxlovid is still being studied, so it is possible that all of the risks are not known at this time." (Own emphasis)
They continued that:
"A total of 627 drugs are known to interact with Paxlovid (nirmatrelvir/ritonavir), categorized as 228 major, 360 moderate, and 39 minor interactions."
In conclusion, this drug is dangerous and its long-term implications are unknown.
Therefore, we believe that it is extremely worrying that unqualified NHS switchboard operators have been given the power to prescribe this medication.
••••