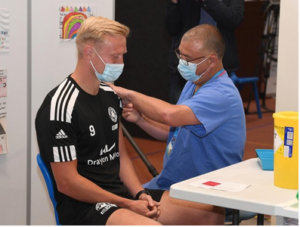 Did Shipman inspire Van-Tam to be the ultimate mag-jab man?
Professor Jonny Van-Tam is in step with the Eugenics plan,
So keen to kill, he brazenly wields the Pfizer spear,
A jab, loaded with poison and dripping with fear.

Drowning in an ocean of insane quackery,
Squinting and glazed over to his own depravity,
Charged with the fervour of his mag-jab insanity,
Prof Van-Tam jabs on and on, forever deeper,
Chuckling maniacally as he stabs each sleeper,

A myopic Penfold* to Bozo Pfeffel's scripted piffle,
A pair of puppets, rattling, prattling viral drivel,
Both clinging to Pfizer's wreckage in seas incarnadine
Amidst blood-clotted bodies, face down in waves obscene.

Little Van Tam's actions are the confessed complicity,
Of a killing quack, neck-deep in murderous atrocity.
They Shoot Footballers, don't they? was a piece I wrote about the mag-jab being injected into professional footballers and the inevitable consquences thereof. Since its publication, cardiac arrests have been suffered by an increasing number of footballers and other professional sportsmen.
Similarly, there has been a series of mainstream media reports of celebrities/media personalities passing away "after a short illness", usually after they have been jib-jabbed. In other words, there is a cover-up going on of the harm and death caused by the vile vials being pumped into people's arms.
The self-evident link between the mag-jab and the premature deaths of those people is being suppressed at all costs.
Whoever Jonathan Van-Tam really is, he is clearly not the most artful of eugenists. He has left a trail of breadcrumbs that is as wide as the seas in which he is drowning. Not only has he engaged in providing false and misleading medical advice to the criminal UK government, he has allowed himself to be photographed and videoed actually injecting his victims with the mag-jab. How interesting that he has been jib-jabbing the footballers of Boston United, a football team in the place of his birth, in Lincolnshire and one which he claims to support.
Just a few days ago, Boston United's youth team were the opposition in a cup tie with West Bridgford Colts, in Nottingham. During the game, one of the youngsters had a cardiac arrest and died.
Youth Player dies from Cardiac Arrest during football match
Van Tam has connections with Nottingham as well as Boston –
He graduated in medicine from the University of Nottingham in 1987. He was awarded bachelor's degrees in medical sciences (BMedSci (Hons)) in 1985 and in medicine and surgery (MBBS) in 1987 […]

After five years of hospital-based clinical medicine, Van-Tam pursued academic training in public health and epidemiology and developed an interest in influenza and respiratory viruses, mentored for many years by Professor Karl Nicholson. He became a senior lecturer at the University of Nottingham (and consultant regional epidemiologist, Public Health Laboratory Service) in 1997, before joining the pharmaceutical industry as an associate director at SmithKline Beecham in 2000.

In April 2001, he moved to Roche as head of medical affairs, before joining Aventis Pasteur MSD in February 2002 as UK medical director.

His unit is an officially designated WHO Collaborating Centre for pandemic influenza and research and a UK Faculty of Public Health "National Treasure" research training location.

Since 2014, he has been chair of the UK government's New and Emerging Respiratory Virus Threats Advisory Group (NERVTAG).

On 2 October 2017, he took up the role of Deputy Chief Medical Officer for England. In this capacity, he gained nationwide visibility during the 2020 COVID-19 pandemic. In May 2020, he was appointed to the expert advisory group for the UK Government's Vaccine Taskforce, chaired by Patrick Vallance.
Conclusion
Note Van-Tam's direct connection with GSK, his former(?) employer and one of the providers of the murderous mag-jab. But, hey, that's a mere coincidence. Isn't it? In all seriousness, this man is a clear and dangerous threat to the lives of those he influences by way of his medical quackery and should only be approached with caution.
Do his actions really amount to a confession? As my elderly mother is so fond of stating, 'the truth will out.'
Jonny Jib-Jab, along with the other Big-Harma-Pharma proselytizers, is at the very heart of the ongoing atrocity by needlepoint.
*Penfold:
---
Footnote: shortly after publishing this piece, the following information was sent to me. On the basis Van-Tam's male relations also have blood on their hands, I am reminded of the expression,
---
Further reading:
Graphene Oxide aerogel – Google Patent
Corona virus hoax cover for 5G genocide
Informed consent and full disclosure – an article on what constitutes a valid agreement (contract), the principles of which apply to accepting the offer of the Mag-Jab.
Orwell City – articles and videos on graphene oxide in the mag-jab