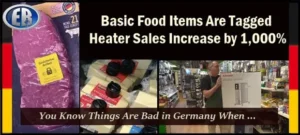 ER Editor: Here's a two-fer update on Germany, and it's not looking great for its government, which is scoring an own goal using its people as the ball.
A reminder that the perfectly solvable energy crisis is what is largely causing inflation across the board. See
********
Germany's Growing Energy Supply Uncertainty: Electric Heater Sales Up 1,000%…In The Summertime!
P. GOSSELIN
Germany's "disastrous" energy policy
Nowadays in Germany, talk is swirling over whether Chancellor Olaf Scholz (SPD Socialists) still has confidence in Economics Minister Robert Habeck's capability to run the country's energy policy, which many are calling a disaster. 
1,000% rise in sales of electric heaters – in the summertime!
Germany's summer is approaching an end and the heating season is just weeks away. The gas supply has been disrupted and its future is very much in question. Germans are deeply worried about how they will keep warm this coming winter.
Already the media are reporting that electric heaters are flying off the store shelves at an unprecedented rate – in the summertime! For example, online daily The Hamburger Abendblatt here reports: "Electric heater online retailers and DIY stores report explosion in demand – increases of up to 1,000 percent."
"Disastrous" energy policy
Politically this is worrying Chancellor Scholz, who is now getting far more involved in energy policy – a responsibility normally handled by the Economics Minister. According to Blackout News here, "Habeck's record on energy policy so far is, objectively speaking, disastrous" and there are signs that Chancellor Scholz no longer trusts his his Green Party Economics Minister, Robert Habeck.
Currently Minister Habeck is leading the drive to shut down coal and nuclear power plants, but is failing to find suitable natural gas replacements. (ER: Nord Stream 2 has been ready to go for months!)
"His grandly announced gas deal with Qatar has collapsed. The announced expansion of renewable energies is stagnating at a low level," reports Blackout News.  "Energy prices have virtually exploded and many consumers are afraid they will no longer be able to pay their bills."
Habeck has since been forced to do a U-turn and bring coal-fired power plants that had already been shut down back online.
Anger risks leading to "right wing" street protests
Habeck's aim is to have the country's heating systems be powered by at least 65 percent renewable energy already by 2024. The industry warns that the target ignores reality. Blackout News also warns: "At the latest, when the first people take to the streets in the fall because of energy prices, Scholz will have to act on the issue of the Minister of Economics."
The German government is already sensing a growing level of anger among its citizens and their readiness to vent it out on the streets. Federal Interior Minister Nancy Faeser (SPD Socialists) recently told the Handelsblatt: "Of course, there is a danger that those who already shouted out their contempt against democracy in the Corona era, often traveling side by side with right-wing extremists, will try to abuse the sharply rising prices as a new mobilization theme."
********
Price explosions: German supermarkets attach anti-theft devices to staple foods
Food items have been secured with anti-theft devices based on the Anglo-Saxon multicultural model (ER: we're not sure what this means) as the first German citizens seem to be driven to acts of desperation in view of the price explosions. This does not affect high-priced items such as champagne, but staple foods. Are these now becoming luxuries?
FREEWEST MEDIA
BERLIN – Inflation is causing food prices to skyrocket, and further price increases are forecast for the next three months. This was the result of a survey by the ifo Institute, as reported by ARD. More and more people can no longer afford these horrendous prices and are driven to desperate acts with the number of thefts increasing.
Supermarkets have been taking countermeasures – with anti-theft devices.
A supermarket in Berlin-Weißensee has now attached security markings to some types of meat – yellow stickers with the inscription "Secured article".
The anti-theft devices also appear to be used in other supermarket branches. On Twitter, a user shared a photo showing the yellow stickers on butter. She wrote: "I think it hacks Lidl! Have we gotten to the point where regular butter has to be protected against theft with a security tag?"
When asked, supermarket chain Aldi did not rule out such theft prevention either, but, like Lidl, Rewe, Netto and Norma, did not want to comment publicly on security measures.
The development is worrying. Accordingly, Adolf Bauer, President of the Social Association Germany, said:
"The fact that supermarkets and discounters have come so far that they do not categorically rule out anti-theft devices for food leaves us stunned. It is more than obvious that staple foods must not become even more expensive. It is imperative that we prevent the majority of people from no longer being able to afford this and that the last resort is theft."
And he warned politicians: "We must not leave people alone with their existential fears. Because otherwise the social division will continue to increase and social unrest could no longer be ruled out."
According to the consumer protection center, food has become more expensive in all food groups:
"In the past 20 years, food prices have risen significantly less than other living costs. While inflation was still just under 1,5 percent on average between 2000 and 2019, the price increase from July 2021 to July 2022 was 14,8 percent."
Additional security measures are already being taken in Great Britain. Supermarkets from the chains Sainsbury's, Coop, Tesco and Aldi provide baby milk, vitamin supplements, steak, cheese and butter. (ER: We've seen this in France, too, with expensive cuts of meat.)
How could things have gotten so bad in Germany, which is said to be so rich, that people are forced to steal the food they need because they can no longer pay for it? The traffic light coalition government, one of the main drivers of these catastrophic conditions, does not seem to see any need for action.
On the contrary, instead of finally abandoning their suicide course, citizens are burdened with more gas levies. Despite inflation, the energy crisis and the housing shortage, migration, which is a huge net loss for the German social system, is actively being pursued.
Featured image, meat: https://www.berliner-zeitung.de/news/inflation-erster-berliner-supermarkt-versieht-lebensmittel-mit-diebstahlsicherung-preise-weissensee-li.255422
Featured image, cheese: @Celeste_Tam42
Featured image, heater: https://deutsch-spiegel.de/nachrichten/die-verkaeufe-von-elektroheizungen-in-deutschland-steigen-inmitten-der-angst-vor-der-gaskrise-im-winter/
Published to The Liberty Beacon from EuropeReloaded.com
https://www.thelibertybeacon.com/germany-price-explosions-tagged-supermarket-food-and-soaring-heater-sales/