A VERY WORTHY PUBLIC-SPIRITED CREATION BY PEOPLE IN THE VANGUARD OF THE FIGHTBACK AGAINST TYRANNY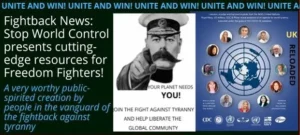 We've featured the excerpts below from the Stop World Control website so as to introduce you to the site as an abundant and informative resource for all Freedom Fighters featuring many high quality cutting-edge documentary videos.
The site is highly recommended as well worth a visit. It is a very worthy public-spirited creation by people in the vanguard of the fightback against tyranny.
EXCERPT ONE
WHAT IS GOING ON IN OUR WORLD?
---
Humanity's leading voices in the fields of science, healthcare, law and journalism are speaking out. Listen to these heroes of humanity, who risk everything to inform you about what is truly happening in the world today.
EXCERPT TWO
Top experts from the WHO, UN, Military & CDC reveal evidence that pandemics are used for world dictatorship
Experts from the World Health Organization, United Nations, British Secret Services, the US & UK Military, the CDC, Pfizer & Governmental Health Agencies reveal a criminal agenda to implement worldwide tyranny, under the guise of pandemics.
EXCERPT THREE
---
PRESENTING THE EVIDENCE
---
A group of international lawyers, top level experts, and renowned scientists present the evidence before a Grand Jury that the COVID-19 pandemic is a criminal operation, with the purpose of installing a world dictatorship.
EXPERT WITNESSES
---
Among the expert witnesses are World Health Organization advisors, a United Nations official, members of British Intelligence Services, former officers from the U.S. and U.K. military, an expert from the Center for Disease Control, a former vice-president from Pfizer, a Nobel prize winner for medicine, and many other high-level witnesses.
PSYCHOLOGICAL MANIPULATION
The experts show how mind control, psychological manipulation and hypnosis techniques are used to control the opinions and behavior of the public worldwide. The information is backed up with official documents issued by the governments and the named organizations. Below is one example of an official document from the British Government, revealing an official strategy to psychologically manipulate the public:
DOWNLOAD GRAND JURY EVIDENCE
The evidence is presented during six Grand Jury legal proceedings, that each last about six hours. The length of these proceedings, make it hard for the majority of the public to receive this information. That's why Stop World Control is creating easy-to-read summaries of each six hour session, so these extremely important revelations can reach a greater audience.
FIND OUT MORE AT THE STOP WORLD CONTROL WEBSITE NOW!
---
https://www.thelibertybeacon.com/fightback-news-stop-world-control-presents-cutting-edge-resources-for-freedom-fighters/