Little information was given by official sources today.  This was posted by Russell Bentley living in Donetsk.
The Allied Forces are having significant success throughout the Donetsk direction.
Today we moved inland: Krasnogorovka (Maryinsky district), went into the direct building of Avdiivka, are conducting additional cleansing of Maryinka and Pesok.
We work with all types of weapons, ranging from Aviation to archery and armored vehicles. Constant artillery fire is being carried out at positions, firing points, places of accumulation of manpower and equipment !!! The Armed Forces of Ukraine are shelling peaceful areas of the Donetsk agglomeration, firing aimlessly due to their agony, feeling their loss in the entire Donetsk direction!!! The enemy in the evening report confirms the battles for: Maryinka, Peski, Avdeevka, Krasnogorovka (Maryinsky district).
Working Brothers ⚡⚡⚡ 👊🏻🤠👍🏻 ❤🇷🇺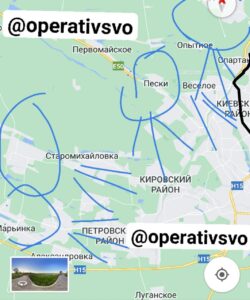 From yesterday –
💥👊🏻😁
The fighters of the Ukrainian Armed Forces withdrew from Pesok so quickly that they forgot the personnel register there. The book is now in the hands of the soldiers of the 11th regiment of the NM DNR and details who, where, when they were summoned, the title and position of each.
The book will be delivered to the competent authority and will help find those responsible for the bombing and killing of civilians. Not a single crime against the civilian population of Donbass should go unpunished.