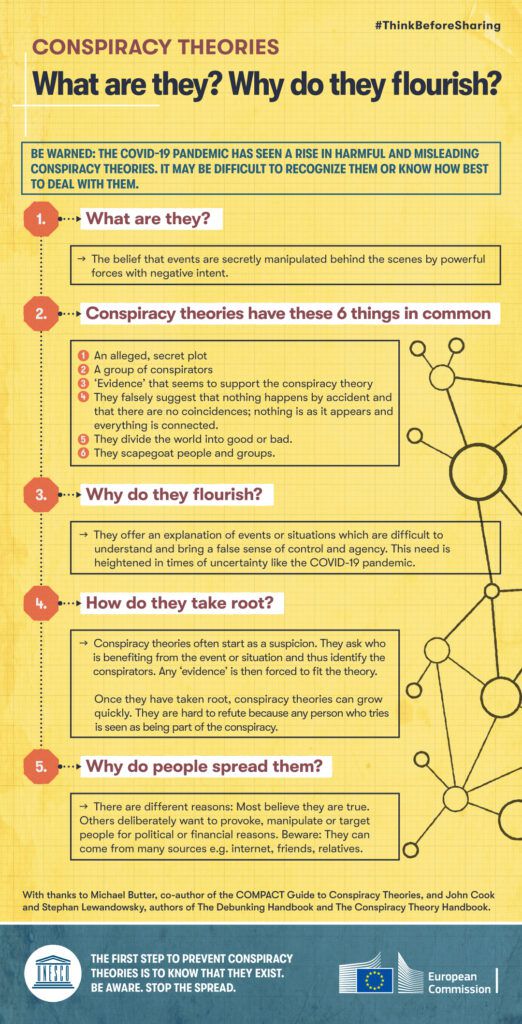 Here's a satirical and tongue in cheek response to the UN Conspiracy theory poster.
1. What Are They?
It's where people are working out and discussing what's actually really going and using their brain instead of believing the bought and paid for corrupt mainstream media.
2. Conspiracy theories have these 6 things in common.
1. A secret plot has been actually been uncovered.
2. The conspirators identified.
3. Hard facts found through hours of investigation and scrutinizing official documentation.
4. Finding out everything is connected and leads back to the covert actions of the conspirators.
5. People are deliberately being divided to stop them working together and becoming a movement.
6. They identify false flags and false accusations designed to manipulate and mislead.
3. Why do they flourish?
Not everyone believes what they see and are told. Some people use their capacity for critical thought and look at the facts. Once they do that the truth starts to be revealed.
4. How do they take root?
When people get cheesed off with whoever is in power never making positive change. When the central banks keep you in debt slavery with fictional money lending and no politician daring to stop the scam. When the deliberate holding of the masses in a state of non empowerment whilst energy and resources are horded and not shared people begin to hurt they start to question things and wonder if there is a better way. Once the people start demanding real change they become a threat and have to be labelled conspiracy theorists.
When the truth starts to overwhelm the lie the discrediting has to kick in to protect the hidden power.
5. Why do people spread them?
They not spreading conspiracy theories. They're discussing what is probably nearer the truth than most people can ever imagine. The few in charge on the visible continents and also the hidden ones are petrified of being discovered. They're the wizard behind the curtain and deceit and slight of hand is the only thing maintaining their position.
They know 7 billion awakened people are a force to be reckoned with so letting them wake up and use their higher mind is not an option. Feed them bread and circus and they'll be happy slaves.
Luckily, things are about to change.