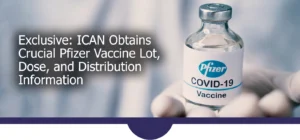 As the result of FOIA requests, ICAN is the first to exclusively receive lot, dose, and distribution information on Pfizer's Covid-19 vaccine, which may finally make it possible to perform certain crucial scientific analysis on the safety profile of this product.
A disproportionate number of the injuries and deaths reported to VAERS appear related to certain lots of Pfizer's Covid-19 vaccine.  But without knowing the number of doses shipped per lot, it was not possible to determine if this disparity in adverse event reports for certain lots is meaningful (or, rather, is simply a result of more doses having been administered from those lots when compared to other lots).
So, in March, amid numerous Freedom of Information Act requests sent by ICAN's attorneys to federal health authorities, there were two requests sent to the CDC for records concerning Pfizer's Covid-19 vaccines.  First, ICAN sought information on the lot numbers and total number of doses within those lots for all of the Pfizer Covid-19 vaccines manufactured, distributed, and administered in the U.S.  ICAN also sought information on where the lots were shipped and distributed, both inside and outside of the U.S.  This month, the CDC finally released some of this information, which can be found here.  As far as ICAN knows, this is the first time any data like this has been made available to the public.
Although many individuals and organizations have sought to do analyses on reported adverse events from Covid-19 vaccines, up until now, their attempts were always hampered by the fact that no one had any denominator to work with – that is, the total number of lots or doses of Covid-19 vaccines vis-à-vis the total number of adverse events reported for each lot number.  But with this new groundbreaking data to work with, that crucial type of analysis into things like adverse events may finally be possible!
In the meantime, ICAN intends to go back to the agency and obtain more complete data.  Additionally, ICAN has numerous similar requests pending with the CDC and other agencies for related data and you can rest assured that ICAN will make public any data that is released so that Americans can finally get the full and unvarnished truth about these products.
https://www.icandecide.org/ican_press/exclusive-ican-obtains-crucial-pfizer-vaccine-lot-dose-and-distribution-information/