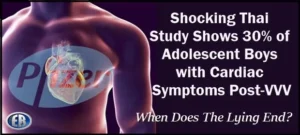 Below is a two-fer on the Thai study recently published (pre-print) showing an exceedingly high rate of heart problems among adolescent boys following the second Pfizer dose, by Dr. Paul Alexander and eugyppius.
What the writers find below is cardiac data that, all by themselves, are extremely shocking. The authors of the study, however, still come out recommending the vaccine for adolescents. It's just bizarre. We're publishing about this study for the straight-on cardiac data: 18% had an abnormal EKG following the vaccine; almost 30% had cardiac effects such as tachycardia, etc.; 3.5% exhibited peri-/myocarditis.
See also this by Steve Kirsch:
Of note:
A new study on cardiovascular impacts of the COVID vaccines done in Thailand is particularly troubling: 29% of the young adults experience non-trivial changes in their cardiac biomarkers.

It is amazing what you find when scientists doing a study are honest and want to know the truth.

"Why isn't a study like this being done in the US?" asks UCSF Professor Vinay Prasad.

Heck, we don't even know the d-dimer of people before vs. after the vax.

This is just more evidence of corruption of the medical community that nobody was calling for any of this data.

These vaccines are a disaster. Every day, the evidence gets worse and worse.

Will this new study stop the vaccines for kids? Of course not!

Look, even if the shots killed every child under 20 who takes it, they'd write off the death to something else and recommend that kids get the shot. The brainwashing is that bad. It's stunning. Facts do not matter.
********
ALARMING! Mansanguan.: "Cardiovascular Effects of Pfizer mRNA COVID-19 Vaccine in Adolescents"; Cardiovascular effects found in 29.24% of patients, ranges from tachycardia, palpitation, myocarditis
The most common cardiovascular effects were tachycardia (7.64%), shortness of breath (6.64%), palpitation (4.32%), chest pain (4.32%), and hypertension (3.99%). Seven participants (2.33%) exhibited at
DR. PAUL ALEXANDER
Very concerning data! CDC and NIH and FDA must urgently pay attention to this pre-print study!!!
Pre-print, not yet peer-reviewed. Excellent prospective study design. n=314, lost 13, thus 301 is the final data set.
CDC and NIH and FDA should be warned that this study is key.
Thai teenagers 13 to 18 years old, cardiovascular outcomes. This is observational cohort study (prospective). The RCTs that underpinned the vaccines were very poor relative to this prospective study. Key that they looked at was troponin T and CK (creatine kinase). These 2 enzymes are seen elevated if the heart cells/muscle is damaged in a heart attack.
Key is they found cardiovascular effects in near 30% of the subjects. Abnormal ECG in 18%.
You have to understand that 1 patient out of approximately 300 with myopericarditis is disastrous, very serious. This is 0.33%. 2 patients with suspected pericarditis (0.66%). 4 patients with subclinical myocarditis (1.33%). Can result in cardiac arrest (sudden death). This is very serious for any exertion, exercise can cause serious arrythmias and potential cardiac death. Any suspected myocarditis, pericarditis, myopericarditis demands immediate rest.
"This study focuses on cardiovascular effects, particularly myocarditis and pericarditis events, after BNT162b2 mRNA COVID-19 vaccine injection in Thai adolescents. This prospective cohort study enrolled students from two schools aged 13–18 years who received the second dose of the BNT162b2 mRNA COVID-19 vaccine. Data including demographics, symptoms, vital signs, ECG, echocardiography and cardiac enzymes were collected at baseline, Day 3, Day 7, and Day 14 (optional) using case record forms.

We enrolled 314 participants; of these, 13 participants were lost to follow up, leaving 301 participants for analysis.

The most common cardiovascular effects were tachycardia (7.64%), shortness of breath (6.64%), palpitation (4.32%), chest pain (4.32%), and hypertension (3.99%). Seven participants (2.33%) exhibited at least one elevated cardiac biomarker or positive lab assessments. Cardiovascular effects were found in 29.24% of patients, ranging from tachycardia, palpitation, and myopericarditis. Myopericarditis was confirmed in one patient after vaccination. Two patients had suspected pericarditis and four patients had suspected subclinical myocarditis.

Conclusion: Cardiovascular effects in adolescents after BNT162b2 mRNA COVID-19 vaccination included tachycardia, palpitation, and myocarditis. The clinical presentation of myopericarditis after vaccination was usually mild, with all cases fully recovering within 14 days. Hence, adolescents receiving mRNA vaccines should be monitored for side effects."
ER Interjection: see the 1st comment below the pre-print study concerning the conclusion above:
---
********
Horrifying Thai study finds evidence of heart damage in 2.33% of vaccinated school-aged participants, authors conclude: "mRNA vaccination … should be recommended for all adolescents"
I'm late to this disturbing study of 301 Thai adolescents aged 13 to 18, who were monitored for cardiac symptoms following Dose 2 of Pfizer. Nearly a third reported effects of some kind, and 2.33% of the male participants exhibited biomarkers indicating damaged heart muscle. The rates are substantially higher than those found in prior studies, probably because "the study protocol … required determining baseline troponin-T, CK-MB, ECG and echocardiography before vaccination" (p. 11). In other words, the authors established individual baselines for each patient to better detect subtler anomalies.
Those are terrible, terrible numbers – orders of magnitude above what we'd expect in this demographic, which faces essentially no risk from Corona infection. It's probably for this reason that the authors are especially eager to lard their analysis with the familiar excuses:
[T]he incidence of COVID-19-associated cardiac injury or myocarditis is … estimated to be 100 times higher than mRNA COVID-19-related myocarditis. Moreover, mRNA vaccine-related myocarditis is characterized by overall mild presentation and favorable outcomes … Overall, COVID-19 mRNA vaccination has an extremely favorable outcome and should be recommended for all adolescents. (p. 12) (ER: Wow …)
I doubt that anyone (still less the authors) could believe this facile nonsense. Given the vastly higher rate of cardiac side-effects from vaccination their study detected, wouldn't it be more reasonable to assume that rates of "COVID-19-related myocarditis" merely appear higher due to reporting bias? Is it in any sense appropriate to characterise myocarditis, with the potentially permanent damage to the heart that it entails, as "mild" and likely to end in "favourable outcome"? And how can anyone compare the risk from vaccination and from infection as if the two were alternatives? Finally, given that SARS-2 poses statistically zero risk to healthy adolescents aged 13 to 18, what could it mean to write of the vaccines having an "extremely favourable outcome" in this group?
It is all so tiresome.
************
Published to The Liberty Beacon from EuropeReloaded.com
ALARMING! Mansanguan et al: "Cardiovascular Effects of Pfizer mRNA COVID-19 Vaccine in Adolescents"