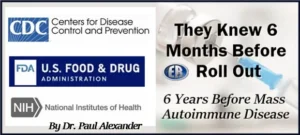 Warning: coming many Americans, many people will die because of these COVID injections, many healthy children WILL die due to these shots; FDA, CDC, NIH, Moderna, & Pfizer secretly told me this
I was told in discussions with FDA, CDC, NIH, Moderna, & Pfizer officials in Washington at HHS July/August 2020, their grave concerns, why they must be silent as in fear for safety and careers; Toby!!
I have been trying to warn. I have written on this here in stack.
I was told by these officials, in confidential secret discussions, that in about 6 to 6.5 years from roll-out, in those who take the injections, they feared mass auto-immune disease and deaths, they feared viral immune escape and very problematic variants, and they anticipated constant deaths from the injections but a major number of deaths to emerge. They said, based on all they knew, that the COVID injections could never work, especially the mRNA platform. It never worked in the animal model and was pathological. They told me that in about 6 to 6.5 years, there will be a surge in deaths in persons who take the injections. They advised me they nor their families will never take any of the COVID injections.
I am being open with you to inform you. I am sick and tired, years now, of the lies and fraud and disaster put out by the media, the alphabet health agencies, etc. You trusted your public health officials, you think 'they care about you'. Well, they never cared about you, your family, or the truth. It is to them about the $CIENCE.
I think I shared prior that my office was on the 6th floor of the HHS building in DC, Operation Warp Speed and Moderna were stationed on the 7th floor. FDA, CDC, etc. have sub-satellite offices at HHS. At least, when I was there and Hahn, Redfield, etc. came there daily after Congress or White House to see their staff, various persons, persons in various offices.
These people I talked with came to me out of anger and fear, too. They knew who I was and wanted to tell me their stories and how worried they were for the population, and fearful for their lives and own careers as to the COVID injections (and other issues). If they spoke out openly so had to talk secretly.
They were very very dismayed and angered and worried as to why the agencies they worked for, e.g. FDA and NIH and CDC etc. and the pharmaceuticals were not properly regulating and conducting the proper safety studies, proper durations of follow-up. They felt the COVID injection program was a pure disaster and should be stopped back then. This is 6 months or so before roll-out (ER: summer 2020). They felt no healthy children should ever be given the very injections they were working on. They were that concerned.
I want to be clear again, based on all I know today, based on what I was told, many many children will die due to these injections. Healthy children will die, not 'if', but 'will' die. Healthy children, healthy people, normal people never needed and do not need these injections. I have told you before that (strong research and scholarship by Geert) we will be in a pandemic for 100 years if we continue these injections. It is the COVID injection itself that is driving the variants and these CDC, NIH, Moderna, and Pfizer officials are malfeasants IMO who are continuing this. There is no sound justification. These malfeasants know that they are vaccinating with the Wuhan strain (legacy strain) that has been gone many months now and omicron dominates. The vaccinal antibodies are to the original Wuhan strain and will not hit the omicron spike antigen (original antigenic sin (OAS)).
It is the COVID injection (and consequent non-neutralizing antibodies pressuring the spike antigen) that is causing the vaccinated to become infected, hospitalized, and die. The data is clear. Massive antibody-dependent enhancement, some refer to this as antibody mediated viral enhancement. Some pathogenic priming. All IMO the very same. The recall antibodies are to something that does not exist today. The key is to reduce viral pressure, infectious pressure on the population, so that the sub-optimal injections have less virus to put under pressure. We have effective chemoprophylaxis, we can do this. We have early treatment. This can worked effectively and this can thus help reduce viral transmission. At the same time, the best step is to stop these filed injections.
I want all of these people investigated in proper public and legal inquiries, and if it is shown they did wrong, in proper inquiries, I want them arrested. I want all who made policy decisions that costed lives, to be jailed! All their monies taken!
Dr. Toby Rogers looked at the FDA June 28th meeting and his takeaway is bang on and what we have been saying here for near a year now here:
''Yesterday, the FDA's Vaccines and Related Biological Products Advisory Committee approved a bivalent Covid-19 shot with the Wuhan strain and the Omicron variant.
The vote was:
19 yes.
2 no.
A few thoughts:
The Wuhan strain is no longer in circulation. So they are vaccinating against a strain that no longer exists.
The Omicron variant that they are going to put into this shot is Omicron BA.4/BA.5:
1. By the time it gets to market in the fall, Omicron BA.4/BA.5 will likely no longer be in circulation.
2. There is no efficacy data whatsoever on vaccines against Omicron BA.4/5.
3. There is no safety data whatsoever on vaccines against Omicron BA.4/5.
4. They do not intend to gather any efficacy or safety data between now and when these shots will be released in the fall:
At the meeting, the manufacturers (Moderna, Pfizer, and Novavax) were asked what their production timelines are… and they said out loud, "So long as we don't have to provide any clinical data, we'll have them ready by fall."
Dr. Toby Rogers is a smart guy.
His work:
************
Published to The Liberty Beacon from EuropeReloaded.com
What Dr. Paul Alexander Was Told Privately About the VVV's in 2020