Can you tell me again that story how the US is ready for a war with Russia, China and Iran?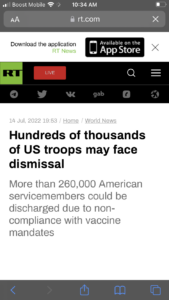 The Biden administration's strict Covid-19 vaccination mandates place more than 13% of the US' fighting forces at risk of discharge, according to Department of Defense data updated on Wednesday.
The Pentagon's website shows 268,858 "partially vaccinated" individuals across the Army, Marines, Navy, and Air Force, plus another 50,710 civilian employees. However, the figures don't include servicemembers who have had no shots at all, meaning the real number imperiled by the administration's vaccine mandates could be significantly higher.
While unvaxxed soldiers whose requests for medical and religious exemptions are pending are supposedly exempt from the requirement, Marine Reservist Mike Berry told Breitbart that religious exemptions have only been granted to individuals already on their way out of the military.