Up to 250 foreign mercenaries were killed in the attack, the Ministry of Defense has claimed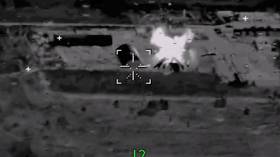 A facility used by Ukraine's "foreign legion" in Donbass has been targeted in a Russian missile strike that killed up to 250 mercenaries and destroyed a number of military vehicles, Moscow's Ministry of Defense announced on Monday.
"A temporary mercenary deployment point of the so-called Ukrainian 'foreign legion' was hit with high-precision air-launched missiles in the settlement of Konstantinovka in the Donetsk People's Republic," the ministry claimed.
"Up to 250 foreign militants, seven armored vehicles, as well as 12 special purpose vehicles were taken out," it added.
Kiev's foreign military unit was created in late February at the request of President Volodymyr Zelensky, and is officially known as the International Legion of Territorial Defense of Ukraine.
The Russian military said it had conducted another high-precision strike on the temporary deployment point of a battalion of the 118th Brigade of the Ukrainian Territorial Defense forces in central Ukraine's Cherkasy Region. The strike killed up to 60 nationalists and destroyed two multiple rocket launcher systems, along with four artillery pieces.
Russian military spokesman Major General Igor Konashenkov said last month that the best thing foreign mercenaries could expect was a "long term in prison." He also claimed that attempts by Ukrainian officials to provide foreign fighters with legal protection by adding them to the list of the armed forces or giving them Ukrainian passports would not save them from prosecution.
He also revealed that hundreds of foreign mercenaries in Ukraine had been killed by Russian long-range precision weapons "shortly after their arrival at the places where they were undergoing additional training and where the tactical units were coordinated." However, most of them, according to the spokesman, were killed "due to a low level of training and a lack of real combat experience."
Data from the Russian Defense Ministry shows that 6,956 foreign citizens from 64 countries arrived in Ukraine to become pro-Kiev combatants between February 24 and June 17. Some 1,956 of those have been killed, while 1,779 have left the country, the ministry said.
The latest strikes come after Russian Defense Minister Sergey Shoigu announced on Monday that the Russian 'East' grouping in Donbass would make Ukraine's long-range weapons their primary target. The Defense Ministry claimed that Kiev was using them to strike residential areas in Donbass and set wheat fields and grain warehouses on fire.
You can share this story on social media: