All Global Research articles can be read in 51 languages by activating the "Translate Website" drop down menu on the top banner of our home page (Desktop version).
To receive Global Research's Daily Newsletter (selected articles), click here.
Follow us on Instagram and Twitter and subscribe to our Telegram Channel. Feel free to repost and share widely Global Research articles.
***
Since China's Arctic extension of the New Silk Road was first unveiled in a January 2018 white paper, a process of Arctic development has been unleashed which represents one of the most important and under-appreciated developments on Earth. Not only will 10 days be saved by goods moving between China and Europe via the Arctic route, but a new set of civilization building measures are now being unleashed in opposition to the anti-human degrowth program attempting to steer the world into a post-nation state system of de-growth and world government.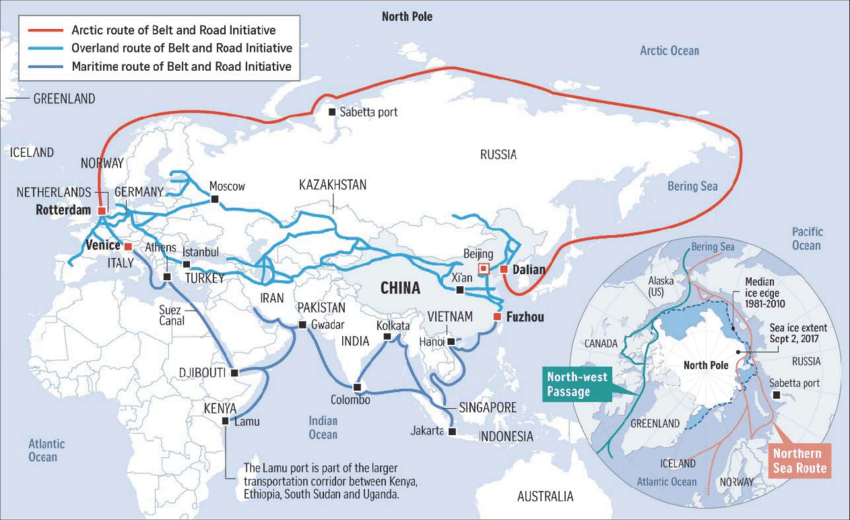 While NATO's geopolitical unipolarists obsess over global governance and militarization of the Arctic, Eurasian Arctic policy has taken a very different character with an emphasis on economic development and cooperation.
Of course Russia has not neglected the military component of its northern military policy, but unlike the west which has no economic vision, Russia's Arctic military posture is definitively defensive and principally diplomatic. As Foreign Minister Lavrov said at the end of last year's Arctic Summit in Alaska: "Russia is doing and will do a lot to make sure the Arctic develops as a territory of peace, stability and cooperation."
This conjunction of Russia and China's northern policies around the Polar Silk Road should come as no surprise to anyone who has been paying attention to the close strategic friendship between both countries since the 2015 announcement of an alliance between the Russian-led Eurasian Economic Union and Belt and Road Initiative. This northern extension of the Maritime Silk Road represents a powerful force to transform the last unexplored frontier on the Earth, converting the Arctic from a geopolitical zone of conflict towards a new paradigm of mutual cooperation and development.
Putin gave a speech at a recent BRI forum stating:
"the Great Eurasian Partnership and Belt and Road concepts are both rooted in the principles and values that everyone understands: the natural aspiration of nations to live in peace and harmony, benefit from free access to the latest scientific achievements and innovative development, while preserving their culture and unique spiritual identity. In other words, we are united by our strategic, long-term interests."
Weeks before this speech Russia unveiled a bold plan for Arctic development during the conference Arctic: Territory of Dialogue which has since grown in leaps and bounds. This bold plan ties to the "Great Eurasian Partnership", not only extending roads, rail and new cities into the Far East, but also extending science and civilization into a terrain long thought totally inhospitable. One of the keystone projects driving this program involves the completion of the International North-South Transportation Corridor (INSTC) launched as an Indian-Iranian-Russian program in 2002 and which has been given new life in the last several years.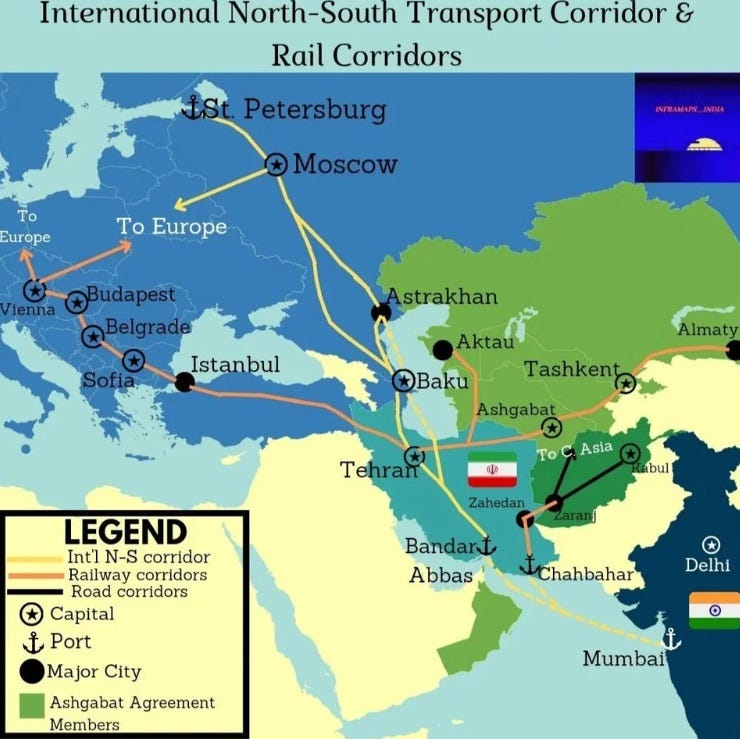 While the west has not built any new cities in several generations, Russia has announced the construction of five major Arctic cities supporting up to 1 million people each in the coming years with Russian Defense Minister Sergey Shoigu leading the plan. Reporting on this program Atle Staalesen wrote in Arctic Today:
"Shoigu sees his masterplan for Siberia as closely connected with the markets in nearby China. But the new cities will also be important for the development of the Arctic, he argues, and makes a reference to the famous 18th Century scientist and writer Mikhail Lomonosov who wrote that "Russian power will grow with Siberia and the Arctic Ocean, […]". According to Shoigu, Lomonosov did not coincidently connect the Arctic and Siberia. "They should be developed together and not separately," he underlines, and adds that "the focus on the development of the Siberian region is both timely and reasonable."
Typically framed as an "anti-BRI" megaproject by small-minded geopoliticians, the INSTC and BRI are really two sides of the same program and should much rather be seen as a sister program for Eurasian, Southwest Asian and even African industrial growth. The INSTC currently enjoys the cooperation of 12 participating nations and has recently seen its northern extension moved from St Petersburg further north to the port of Lavna in Murmansk, Russia. China's western "middle corridor" branch of the east-west BRI stretching through Xinjiang also features several rail and road corridors that tie directly into the INSTC not to mention the obvious Arctic far east connections.
When fully completed, the INSTC will not only circumvent the NATO-controlled zone of the mediteranean zone via the overly congested Suez canal but will cut approximately 10 days and 40% of the transportation costs off the current Suez route.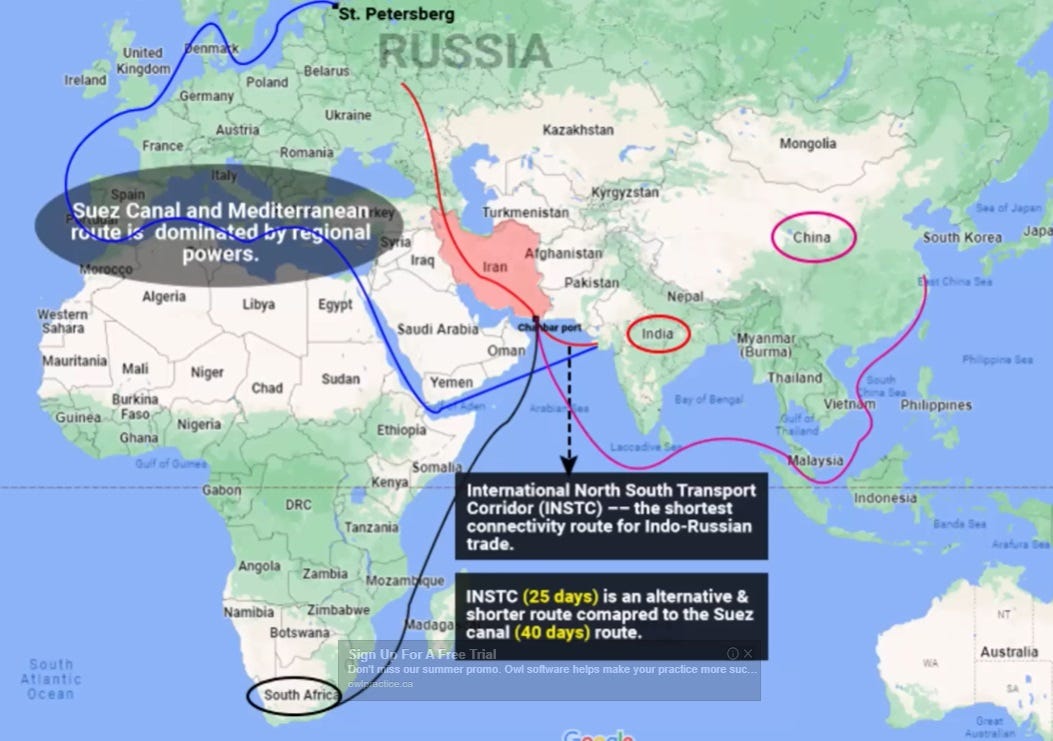 In 2019 China and Russia signed the first scientific cooperation agreement together setting up the "China-Russia Arctic Research Center" as a part of the Polar Silk Road.
The BRI's Success So Far