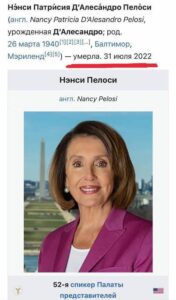 This might be a signal that Pelosi will be billed as being killed approaching Taiwan.  It might be a double that gets taken out or just an empty plane.  But the news media will be telling us she was killed – if this timing error in reporting her demise means anything, and it must.
(31) WAR UPDATE: Green Light Given to Shoot Down Pelosi's Plane, China Closes Taiwan Strait for Exercise – YouTube
UPDATE
She's not going. It was all a big psyop to keep the world on edge. Oh she was sanctioned by China? Ohh how scary. Now both sides can save face and keep the world on edge. Wars and RUMORS of war. Don't Speak News.