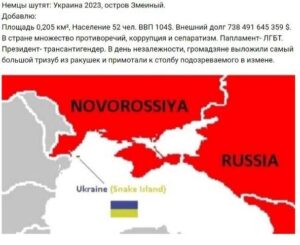 I'm not sure if this is funny to a typical western media-trained mind – probably not.  It made me laugh.
Browsing Russian posts on vk.com, you find a different view of the fighting in Ukraine than can be heard elsewhere.
The presence of humour is never far away – often black humour – amidst terrible tragedies of children being killed by US HIMARS inter alia,
with Ukraine deliberately targeting civilian areas under Russian control.
e.g.
❗As a result of the shelling of the city of Alchevsk by the American MLRS M142 HIMARS (in total, 4 missiles were fired by the enemy), 2 residential buildings were destroyed, the glazing of the Alchevsk School No. 7 and the Lyceum of Technology Information Were damaged.
The evidence is being collected, missiles with serial numbers and western manufacturing data.  Pictured.
from Intel Slava on vk.com