JUST A PIECE OF CLEVER SATIRE . . . OR IS IT?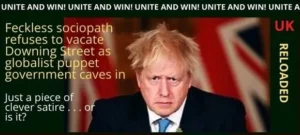 The featured video is five minutes of biting satire  from British comedian Jonathan Pie.
Yet, as all good satire does, it provides apt commentary on current events that really nails its iniquities and brings them sharply into focus. Sometimes a few minutes of sharp satire does more to expose corruption and idiocy than any number of long, learned and reasoned arguments.
The iniquitous debacle addressed on this occasion is the cave-in of the sleazy, inept and downright subversive crew who have managed to hijack our governance and the resignation of the worst PM in British history. It draws attention to the burning question as to how we managed to allow such a degenerate crew of globalist nation-wreckers to seize power over our lives in the first place.
The fury that drives the delivery of this masterful rant also reflects the growing grassroots anger of the British people at the destruction of their country by a self-appointed "elite" of  corrupt, irresponsible, immoral sociopaths not fit to lick the boots of the citizens whose trust they so remorselessly betray.
This hard-hitting yet enormously entertaining diatribe in which Pie voices what so many of us would say if we could find the words is well worth a few minutes of your time.
USE THE EMBED CODE
<iframe width="640″ height="360″ scrolling="no" frameborder="0″ style="border: none;" src="https://www.bitchute.com/embed/bh7p6Bxl5h09/"></iframe>
---
Visit People's Media at Liberty Rising
This article is from UK Reloaded
Feckless sociopath refuses to vacate Downing Street as globalist puppet government caves in