I appeal to real Russians who really love their Motherland! Putin V.V. removes Russia from the influence of America and Europe. Himself out of the influence of the oligarchs. The process is underway. This does not suit the West. This does not suit some people in our country.
Putin has many enemies.
A coup d'état is being prepared. The overthrow of Putin is being prepared.
America spares no expense for this, and there are people in the country who are ready to do it. Now in Russia there is an information war against Russia and Putin. Part of this war is a deliberate attempt to create a negative attitude among Russians about what is happening in the country, to arouse dissatisfaction with Putin's policies. Dissatisfied people are more willing to support the coup.
We already know how coups d'état and the overthrow of presidents end. A recent example is Ukraine. Maidan just wanted to change the president, and as a result, the whole country "Maidanul". We have a choice: to support the President of Russia, to preserve the state, to preserve peace and stability, to defend the sovereignty and independence of Russia. This is the main thing now.
The situation is very acute. We stand – life will begin to change for the better.
No – it means we will see riots in the street, looting, murders and defenselessness of us.
Be vigilant, Russians, you can't "Maidanize" our country. Our children and grandchildren will be grateful to us later.
Take care of Russia, Russia is one and there is no other Russia…
Appeal to the citizens of Russia and Ukraine!
Dear compatriots, fellow citizens, friends!
Many of you do not understand what is happening and how to perceive the ongoing hostilities on the territory of Ukraine. From all sides there is conflicting information, mostly "fake" Let's try to explain the essence of what is happening:
1. Photo and video filming was banned for Russian troops, so as not to outrage the population of Ukraine and Russia with videos and photographs of the damage caused and the dead soldiers of the Armed Forces of Ukraine. Therefore, everything that is now on the network is mainly filmed by the Armed Forces of Ukraine, which cling to every small victory, to every wrecked truck. Taking into account the scale of the offensive and the number of hot spots, they have nothing special to boast of, the number of their fakes also speaks of this. Although, as you understand, it will not do without losses on our part, we need to understand and accept this. These are military operations and not only professional military personnel are involved in them, but also civilians who can suffer mutually.
2. No matter how you feel about Putin, now our political and military leadership needs your understanding and moral support! A war is a great tragedy, but a lost war is a disaster! In this difficult time, wishing for the defeat of our army, agitating against Putin and the military operation, breeding defeatist sentiments, whining about sanctions and panicking is tantamount to betrayal, for which you will soon have to answer.
The decision to launch a military operation was not easy, but believe me, our leadership of the country and the Army, all actions are precisely planned, calculated and weighed to the smallest detail and detail. And with only one goal, this military operation was launched – the defense of Russia and the fraternal people of Ukraine!
Decision is made!
There is nothing to stop, the die is cast, now we are all in the same boat. We will "rake" all the consequences later, but now we need a VICTORY!. Even if for this it will be necessary to use heavier weapons than are used by the Russian army now.
3. Understand, this is not a war "for palaces, banks, and the privileges of individuals", this is a war for historical justice and your own safety! Russia has always been friendly to Ukraine. Since the collapse of the USSR, Russia has always helped Ukraine: benefits, preferences, resources sold cheaper than other countries, gave profitable loans. Russia treated Ukraine as a brotherly country. And how did Ukraine (its leadership) repay? The fact that she wanted to join NATO, a military organization whose entire raison d'être is aimed at confronting Russia. Which in its last documents declared Russia an enemy. This is a real betrayal, this is a stab in the back. Why did Ukraine want to deploy American military bases and weapons, first in Crimea, then on the border with Russia?
Why was it necessary to indulge the Ukrainian nationalists? There are no more than 20% of the population there (and they are concentrated mainly in the western regions, the former Galicia), who do not want to have anything to do with either the "Muscovites" or, by the way, the Ukrainians themselves. The remaining 80% of the Ukrainian population has always stood for friendship and partnership with Russia.
4. Separately, I would like to clarify the situation with sanctions. A resource rich country like Russia should strive for AUTARCIA (independence), we should not depend on anyone, especially from our potential enemy. Therefore, all sanctions and prohibitions in the future are even useful for the development of our own economy and contribute to self-sufficiency.
Dear fellow citizens, if your Motherland (Russia and Ukraine) is dear to you, if you associate your future with it, if you are going to live here and raise your children and grandchildren, show patience and due patriotism, support our army and the leadership of Russia!
We wish courage and bravery to the Russian soldiers and officers participating in the military operation!
Remember, we support you, worry about you, pray for the successful completion of your Great Mission and look forward to your return with Victory to your family and friends! Glory to the Russian Army!
Distribute as many people as possible.
A.V. Bortnikov
Director of the FSB of the Russian Federation
Published on Russell Bentley's channel on V Kontakte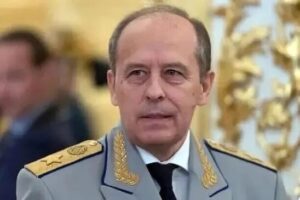 FSB Director Alexander Bortnikov addressed the Russians through social networks.
Part 1. Photo from the LPR as an addition to the text, but not directly related to it.
This trip was not easy for us both mentally and physically. But if we could shade physical fatigue with 4 hours of sleep, then moral exhaustion simply cannot be patched up.
War has many faces. There were many tears, anger from hopelessness and leaden silence from several news that overtook us one day. There was a lot of life and solidarity, love and responsiveness. There. At the same point where the terrible news thundered. You can and should learn to live with this, because it is in war that you can truly learn to appreciate something that cannot be bought for any money – LIFE. And it is in war that you realize how fragile and defenseless it is. It doesn't matter who you are: a civilian or a professional fighter…
Peace to you, friends! Appreciate and love each other.
And to the guys… And to the guys of eternal and bright memory… We will not forget you!