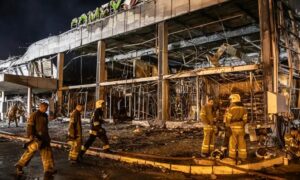 Introduction – June 28, 2022
Call me a "conspiracy theorist" but you have to ask what Putin would gain militarily from striking a packed shopping centre at peak shopping hours?
The answer, of course is absolutely nothing.
Rather he would incur a lot criticism and condemnation and rightly so. IF indeed Russia was responsible?
Given that Russia would gain nothing strategically from such a strike you have to wonder if the Ukrainians haven't learned a little from their Western allies on the advantages of a false flag? After all, the UK/US are masters at the art, as witness 9/11 and 7/7.
Not only the timing and the target raise questions but the fact that the strike very conveniently occurred just as G7 leaders were meeting in Bavaria. Moreover, the Ukrainians are also in possession of cruise missiles, such as the Neptune cruise missile that sank the Russian Black Sea flag ship Moskva.
I don't know enough to pronounce definitively right now but the possibility that this was a false flag shouldn't be ruled out. Ed.
World leaders condemn 'abominable' Russian attack on Ukraine shopping centre
Lorenzo Tondo, Pjotr Sauer – The Guardian June 28, 2022
Leaders around the world have denounced Russia's deadly strike on a shopping centre in Kremenchuk, Ukraine, as "abominable" and a war crime, amid growing international outrage at the attack.
Rescue efforts are underway and the search for survivors continues after the missile strike on a busy shopping centre in central Ukraine that had more than 1,000 people in it at the time, according to President Volodoymyr Zelenskiy.
The Ukrainian defence ministry said the strike was deliberately timed to coincide with the mall's busiest hours and cause the maximum number of victims.
So far, 17 people are known to have been killed, according to Ukraine's emergency services. Serhiy Kruk, the head of Ukraine's state emergency service, said 59 had been injured. Dozens of missing persons reports have been filed.
In a joint statement, the leaders of the G7 condemned the "abominable attack" and noted that attacks aimed at civilians were a "war crime".
"We stand united with Ukraine in mourning the innocent victims of this brutal attack. Indiscriminate attacks on innocent civilians constitute a war crime. Russian president Putin and those responsible will be held to account.
"Today, we underlined our unwavering support for Ukraine in the face of the Russian aggression, an unjustified war of choice that has been raging for 124 days."
They said they would "continue to provide financial, humanitarian as well as military support for Ukraine, for as long as it takes".