PEOPLE'S GRAND JURY INVESTIGATES MASS POISONING EVENT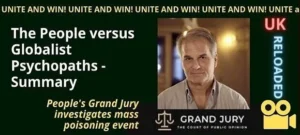 Here is a succinct must-watch briefing on lawyer Dr Reiner Fuellmich's  ground-breaking People's Grand Jury investigation into the crimes committed by government officials, politicians and other Covid Criminals against the global community.
We do not forget,  we do not let psychopaths with the blood of millions on their hands off the hook.
We persist until justice is done.
---
Visit People's Media at Liberty Rising
This article is from UK Reloaded