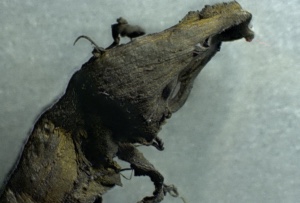 (ian)  This is a pic from a recent article posted here, and it  was posted in good faith. The article said that they were not blood clots but were removed from people who died from blood clots. Richard D Hall of Richplanet.net posted a video on his site re the same pictures and info.
I received this email tonight, so thought I'd show you it.
Greetings,
Apologies about the previous video I posted which I have removed from the
Richplanet platform.
The video explored rubbery strands that have been found by embalmers inside
the veins of dead people. The claim is that these strands are like nothing
that has been found before and are caused as a result of COVID vaccination.
I received an email which contends the claims, see below …
"As a former military medic and having been in theatre on many occasions
seeing the procedure done, I can tell you outright that the samples shown
in the Infowars video are pure disinformation.
What the samples in the video are, are varicose veins that have been
removed from a said patient, these come in many sizes as seen in the vile
show in your video, you might want to reconsider taking down the link and
do your own research before posting such content."
If you want to watch the video that I posted on Richplanet (which has since
been removed by me), you can find it here …
https://www.brighteon.com/f972efaf-1a17-4cee-82f0-62a37e740765
I do not know whether the strands being extracted by embalers ARE something
different to normal varicose veins ?
I'd appreciate any analysis by suitably qualified persons to determine
whether they are unusual, and whether they may be due to vaccination.
Thanks, Richard.