A London double-decker bus burst into flames this morning forcing terrified passengers and the driver to flee.
The bus is believed to have caught fire after pulling into a stop in Brixton, south London.
Firefighters rushed to the scene around 9.50am to find the bus engulfed by smoke and flames.
Horrified onlookers described the 'frightening' incident on Twitter.
© Provided by Metro The double-decker bus caught fire in Brixton, south London (Picture:@The_Tea_Man/Twitter)
One witness said: 'Bus in Brixton pulled into the stop and promptly caught on fire. Huge flames & crashing as bits of it were burned off.'
Eye-witness Laurence Nealon, 28, from Brixton, said he feared the bus would explode.
'I was in a work meeting when I noticed the smoke going past my window.
'I popped downstairs with my housemates to see what was going on and was shocked to see the blaze.
'It's the last thing you expect to see when you're working from home in the morning.'
The London Fire Brigade (LFB) said it had received 19 calls about the blaze, which was extinguished just before 10.25am.
A statement on its website said: 'Firefighters were called to a bus alight on Brixton Hill.
'Part of a double decker bus was damaged by fire. The driver and passengers left the bus before the Brigade arrived. There were no reports of any injuries.
'The Brigade was called at 0950 and the fire was under control by 1022. One fire engine from Brixton Fire Station attended the scene.'
The A23 Brixton Hill was closed to traffic between New Park Road and the A205 South Circular after the incident.
Transport for London said an urgent investigation has been launched to establish the cause of the blaze.
Head of operations, Marlon Osborne, said: 'The incident on a bus in Brixton this morning must have been really frightening for those involved.
'Thankfully all passengers were evacuated and there are no injuries.
'We are working closely with the emergency services and the operator to urgently investigate what happened.'
LFB tweeted that a number of 'very visible' fires had broken out across the capital.
Seventy firefighters were also called to a blaze at a flat above a shop in Camden, north London just after midday.
Part of the ground floor shop and most of the first-floor flat roof was ablaze, as crews battled to control the flames under 'incredibly hot and arduous conditions'.
Station commander Brett Loft, who attended the incident, said heavy smoke in the area was subsiding and no one had ben injured.
Crews have also been sent to tackle house fires in Greenford and Feltham, both in west London.
Responding to speculation the fires are related to the heatwave in Britain, LFB added: 'All fires will be investigated and it's too early to say what the causes are at the current time.'
London double-decker bus erupts into fireball and passengers flee (msn.com)
TAP – Is this in any way related to the fires that are happening across Russia?  They began after RAF Welford's munitions store was hit presumably by a missile on April 14th 2022 causing a massive explosion and fire.  This was not reported in main media except as a fireworks business on fire .  Russia had issued an ultimatum on April 13th the day after the Moskva was hit.  This was also not reported and the ultimatum was rejected.
One possible scenario was that a Directed Energy Weapon was used to start fires in Russia.  The London fires might have another cause than directed energy weaponry but what is it?  If attacks on military targets in the UK are not reported,  Russia might decide to attack civilian and infrastructure targets, as Ukraine is doing in Donetsk.
Of course it might just be the heatwave.
Boris Johnson visited Kiev yesterday to persuade Kiev not to negotiate for peace with Russia despite efforts by EU leaders to wind down the conflict in Ukraine.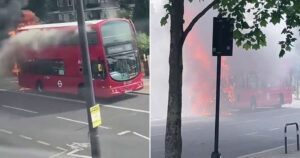 From another post yesterday.
https://www.henrymakow.com/2022/06/putin—western-elites-pervert.html
This certainly doesn't read like a leader who is covertly working for the NWO to me:
"Addressing the St. Petersburg International Economic Forum (SPIEF), Russian President Vladimir Putin stated that the unipolar world has come to an end despite all of its beneficiaries' attempts to preserve it at any cost"