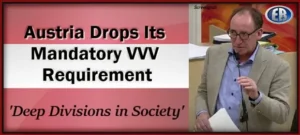 ER Editor: Readers may also be interested in this Deutsche Welle (German state-funded media) story – Austria scraps COVID vaccine mandate.
We remind readers that Austria has experienced some very weird events over the last year, such as Young Global Leader-former Chancellor Sebastian Kurz disappearing from the political scene on some flimsy pretext, to be replaced by Alexander Schallenberg (ditto for the flimsy pretext), who was quickly replaced by Karl Nehammer. Who's 'had Covid' at least once, which we understand to be code. Austria ended up with what looked like the most draconian vaccine law, only for it not to get really implemented. Finally, it's been dropped. A strange series of events overall.
********
Austria to formally abolish COVID jab mandate after months-long suspension
ANDREAS WAILZER & DOROTHY CUMMINGS McLEAN for LIFESITE NEWS
---
The law was originally passed in November of last year and was originally supposed to take effect in February 2022.
VIENNA, Austria (LifeSiteNews) —Austria's health minister has declared that the controversial law forcing COVID vaccination on all adults will be abolished in July.
Minister Johannes Rauch made the announcement during a press conference held today. The law was originally passed in November of last year and was originally supposed to take effect in February 2022. However, after technical issues and a reevaluation by the official mandatory-vaccination commission, it had been suspended until today.
Herwig Kollaritsch, one of the four members of the mandatory-vaccination commission, said that instead of discussing mandatory jabs for everyone, compulsory inoculation for certain groups, e.g. elderly people, should be considered.
While the law was suspended, it could have been reactivated and enforced at any time, and many commentators thought that this might happen this fall, when case numbers for COVID are likely to begin rising again. However, with the complete abolition of this law, mandatory vaccination will not be able to be established so quickly. A new law would have to be passed by the Austrian Parliament, and the Austrian Federal Council would have to approbate it. This is a process that usually takes at least a few weeks.
Austria's health minister justified the decision to abolish the law by stating that the circumstances in November 2021, when the law was originally passed, were very different from today. Back then, Delta was the dominant variant, and Rauch claims that hospitals were on the brink of being overwhelmed.
He also stated that mandatory vaccination won't get anyone vaccinated and cited a survey where 13% of Austrian said they would never get vaccinated with a COVID jab, even if threatened with penalties.
Furthermore, Rauch acknowledged that the law and discussion about it have caused deep divides in society, businesses, and families. He added that many other problems, like the war in Ukraine, inflation, and the energy crisis are leading to tensions in society. Therefore, more solidarity and cohesion will be needed in the coming months and years.
However, Rauch also stated that masks, testing, and booster shots will remain as measures against COVID.
He ended his statement by acknowledging that "the pandemic" has also caused psychological damage, especially to children and adolescents.
This might not be the last word, however. The St. Boniface Institute's Alexander Tschugguel, a passionate opponent of the law, translated a sobering tweet by Dr. Marcus Franz, who called the decision to drop the law a "feint."
"Though the repeal of the #VaccineMandate is satisfying, unfortunately it is a feint," Tschugguel translated.
"Those who read the new Epidemics Act carefully know that with it, the real infringements of our fundamental rights are possible directly through the secretary of health, without the parliament."
Tschugguel's initial reaction was more celebratory, crediting the Holy Rosary and Austrians' resistance to the mandate for its abolition.
The Catholic activist added that "the Austrian people will not forget all the harm [Austrian politicians] caused them over the last months and years – they won't."
************
Published to The Liberty Beacon from EuropeReloaded.com
Austria to Formally Abolish COVID Jab Mandate After Months-long Suspension