MIDAZOLAM MURDERS UPDATE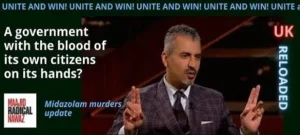 Intro by Steve Cook
The featured video below is from Radical's hard-hitting journalist  (yes a real journalist) Maajid Nawas.
As he points out, we have here in the scandal of state-sanctioned murder using Madazolam the most news-worthy story in living memory Yet the corporate media and justice system, apparently untroubled by the systemic murder of British citizens, are steadfastly ignoring it.
Accusations are of course not proof but as the video clearly shows,  the accusations in this instance, backed up by considerable evidence, should at least compel a full police investigation with any wrongdoers, if such are found, brought to justice.
The unwillingness to investigate smacks of a government with blood on its hands. After all, if they have nothing to hide, then a full investigation if PROPERLY DONE would show the accusations unfounded and put the matter to rest.
As for the media, which normally never lets the truth get in the way of a good story, its unwillingness to touch this story at all, speaks volumes.
Cue Maajid Nawas who does the job the corporate "journalists" have failed or refused to do.
On Allegations of Involuntary State Euthanasia Using Midazolam
SOURCE: RADICAL WITH MAAJID NAWAS
We speak to Freelance Investigative Journalist Jacqui Deevoy, Health Scientist Dr Kevin Corbett Phd, Retired Nurse Celia Jones who is a witness and widow to Brian Boulton, Practising Nurse Elena Anamaria who is a witness and widow to Stuart Nisbet and Medical Researcher Stuart Wilkie.
USE EMBED CODE
<iframe id="odysee-iframe" width="560″ height="315″ src="https://odysee.com/$/embed/Ep6-Radical/908a6e37cb13530285fac5adf3aaeca1be170ce3?r=8qrg6tDaM21V3zs6LfyYEvjH8drRFavF" allowfullscreen></iframe>
WATCH VIDEO HERE

---
Visit People's Media at Liberty Rising
This article is from UK Reloaded
A government with the blood of its own citizens on its hands?