Washington reportedly plans to deliver Norwegian-developed NASAMS surface-to-air missile system to Kiev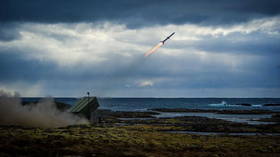 The US plans to announce as soon as this week that it has purchased "an advanced medium-to-long range surface-to-air missile defense system" for Ukraine, a number of news agencies reported on Sunday and Monday, citing people familiar with the matter.
The Associated Press quoted a source as saying that the weapon in question is the Norwegian-developed NASAMS anti-aircraft missile system. Ukrainian President Volodymyr Zelensky requested the NASAMS to be delivered to his country when he addressed the Norwegian parliament in late March.
It was said that Washington would also supply Kiev with additional artillery ammunition and counter-battery radars.
The news comes as the leaders of the Group of Seven (G7) –which comprises of the US, Canada, Britain, France, Germany, Italy, and Japan – are meeting to coordinate further aid to Ukraine and more sanctions on Russia.
The US – along with other NATO members – has been increasingly providing heavy weapons to Ukraine, including various missile systems, combat drones, and armored vehicles, since Russia launched its military operation in the country in late February.
Earlier this month, President Joe Biden unveiled a further $700 million military aid package to Ukraine, which includes HIMARS multiple rocket launchers, Javelin shoulder-fired anti-tank missiles, and Mi-17 helicopters.
Moscow previously accused the West of "flooding" Ukraine with weapons and warned that any foreign weaponry on Ukrainian soil will be treated as legitimate targets.
https://www.rt.com/news/557883-us-new-missiles-ukraine/
UK's Johnson warns of downside to ending Ukraine conflict
Any effort to resolve the conflict between Moscow and Kiev peacefully will cause more harm than good, the UK PM has said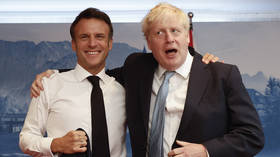 The West needs to keep arming Ukraine instead of seeking a peaceful resolution to the conflict between Kiev and Moscow, UK Prime Minister Boris Johnson has told French President Emmanuel Macron, according to Downing Street. Any attempt to resolve the conflict peacefully will lead to global instability, he said at a meeting on the sidelines of the G7 Summit on Sunday.
The military action in Ukraine is at a "critical moment," the two leaders agreed, but there is still "an opportunity to turn the tide." According to the statement, Johnson and Macron have agreed to continue supporting Kiev militarily to "strengthen their hand in both the war and any future negotiations."
The prime minister also cautioned the French leader against seeking alternatives to resolving the conflict.
The Prime Minister stressed any attempt to settle the conflict now will only cause enduring instability and give Putin licence to manipulate both sovereign countries and international markets in perpetuity.
Johnson took a similar stance at a meeting with Canadian Prime Minister Justin Trudeau on Sunday. "Ukraine is on a knife-edge and we need to tip the balance of the war in their favor. That means providing Ukraine with the defensive capabilities, training and intelligence they need to repel the Russian advance," a statement from Downing Street read.
On Sunday, Johnson tweeted that Ukraine's "security is our security, and their freedom is our freedom."
Ahead of the summit, London pledged an additional £429 million ($525 million) in guarantees for World Bank loans in 2022 as a form of financial assistance to Kiev. According to Downing Street, the UK's total financial support for Ukraine, including loan guarantees, amounted to £1.3 billion ($1.5 billion) and the combined UK economic and humanitarian support for Ukraine amounted to £1.5 billion ($1.8 billion) this year.
Johnson has been one of Kiev's most ardent supporters after Russia's military operation in Ukraine began in late February. He has visited Kiev twice since then and repeatedly called on Western nations to provide more weapons. The UK is one of Kiev's major arms suppliers, including heavy weaponry.
In June, Johnson warned that the West must brace for a long war between Kiev and Moscow. On Saturday, he said he would consider resigning if he has to abandon Ukraine at some point.
https://www.rt.com/news/557853-uk-johnson-ukraine-conflict-peace/
NATO to decide on biggest deployment since Cold War – El Pais
The military bloc might send entire divisions to its eastern flank to deter Russia, El Pais reports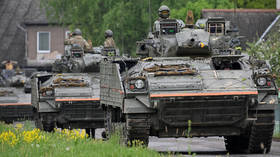 The upcoming NATO summit in Madrid might see the military bloc decide to send thousands of troops to Russia's doorstep, the Spanish newspaper El Pais reported on Sunday, citing its sources. The bloc, which is set to "re-invent" itself next week, will also reportedly cut all ties with Moscow, the paper added.
NATO member states are ready to turn Eastern Europe into a "fort" hosting thousands of soldiers and a large quantity of military equipment amid fear of a potential Russian assault, El Pais explained, citing sources familiar with negotiations, which are still taking place at the military bloc's headquarters in Brussels ahead of the summit scheduled for June 28-30.
The US-led organization "wants to send a message that it is on war footing" and ready "to respond to any aggression," the paper said. NATO would also use the summit to boost national defense spending and joint financing of the bloc, it added.
The "main debate in Madrid will be between the Eastern European [states], who would like to transform the battalions into heavily armed brigades stationed permanently on their territories, and [others], such as the US or Germany, who prefer to continue with the current strategy of rotating forces, which are reinforced in the event of a crisis or conflict," Jamie Shea, a former high-ranking NATO official who currently heads the Center for War Studies at the University of Southern Denmark, told El Pais.
Even if the bloc decides for a "lighter deployment" strategy, Eastern European members might see NATO forces currently stationed within their borders doubled. The groups stationed in Poland and the Baltic states, now consisting of between 1,000 and 1,600 soldiers, would double in size and would also have "greater autonomy" and "more sophisticated weapons," according to El Pais.
However, if Tallinn, Riga and Vilnius push their demands through, the NATO buildup could potentially involve entire divisions – massive units of up to 15,000 troops commanded by generals, El Pais said. Latvia, Lithuania, and Estonia have reportedly asked for between 15,000 and 50,000 soldiers in total.
In mid-June, Reuters, citing diplomats and senior officials from leading NATO nations, reported that the Baltic states would not receive the requested buildup. The region already hosted around 5,000 multinational troops prior to Russia's attack on Ukraine in February.
Poland's Defense Minister Mariusz Blaszczak confirmed earlier on Sunday that Warsaw would also like to see a NATO brigade group deployed to its territory, adding that the bloc's flank would require "special attention for a long time."
NATO has also doubled its presence in member states bordering Ukraine since the start of the Russian military operation in late February. Together, Hungary, Romania, Slovakia, and Bulgaria are currently hosting around 40,000 NATO soldiers, according to El Pais. NATO forces in the region also include 130 combat aircraft on maximum alert and 140 warships, the paper added. The US military presence in Europe has grown from 70,000 to 100,000 since February as well.
The bloc will drastically change the way it officially views Russia as it updates its strategy concept, El Pais reported. Until now, Moscow has been defined as a nation posing "no threat" to the bloc, while relations with Russia have been described as having "strategic importance." The new concept would see Russia defined as a "direct and imminent threat" that could potentially attack any NATO member state, the newspaper said, citing its sources. NATO chief Jens Stoltenberg has also warned that Russia would be labeled a "threat" in the strategy update.
China, which has not been named in the concept before, will appear in the new document as well. It will be called "a geostrategic and systemic challenge," a designation that indicates the unwillingness of European NATO members to strain relations with Beijing, according to El Pais.
https://www.rt.com/news/557864-nato-biggest-deployment-cold-war/
NATO to increase rapid-response forces sevenfold – Stoltenberg
The military bloc's chief says the number of high-readiness forces will reach 300,000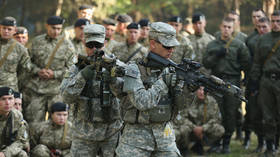 NATO will drastically boost the number of its rapid-response combat forces, Secretary General Jens Stoltenberg said on Monday.
"We will transform the NATO response force and increase the number of our high readiness forces to well over 300,000," Stoltenberg told reporters ahead of the bloc's summit in Madrid, Spain later this week.
The NATO Response Force (NRF) currently has around 40,000 personnel.
Stoltenberg said the allies will strengthen their air defenses and increase stockpiles of military supplies.
Together, this constitutes the biggest overhaul of our collective deterrence and defense since the Cold War.
NATO leaders will kick off a three-day summit on Tuesday and focus on the collective response to the Russia-Ukraine conflict.
"I expect it will make clear that allies consider Russia as the most significant and direct threat to our security," Stoltenberg said.
Many NATO member states imposed sweeping sanctions on Moscow and have supplied Kiev with heavy weapons, including missile systems, combat drones, and armored vehicles.
Russian President Vladimir Putin cited NATO's eastward expansion and "efforts to gain a military foothold" in Ukraine as reasons for launching the military campaign in late February.
https://www.rt.com/news/557904-nato-increase-rapid-response-stoltenberg/