…. exploded, or been struck by a plane crash in Arizona, Arkansas, California, Illinois, Indiana, Kansas, Louisiana, Maine, New Hampshire, North Carolina, Oregon, Texas, Washington, and Wisconsin. Nothing odd about this at all. Some articles on these fires can be found here, here, and here.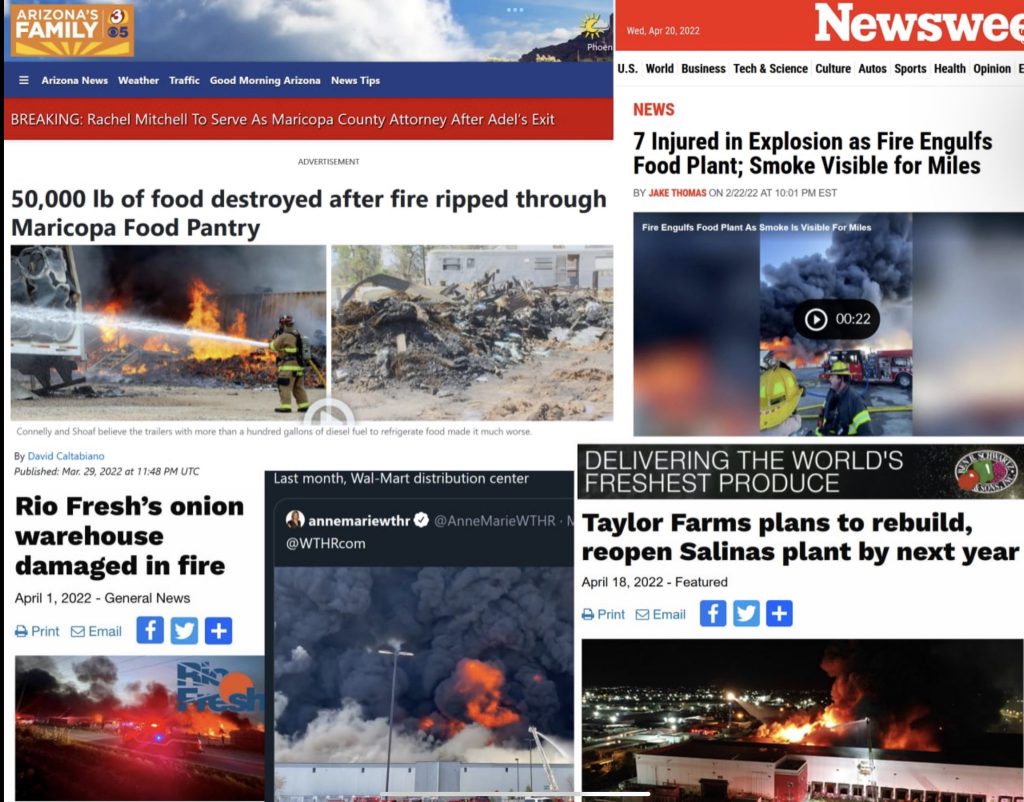 Some of the food processing plants that went up in flames:
Azure Standard Foods
Bonanza Meat Co.
Cargill-Nutrena Feed Mill
Deli Star
East Conway Beef and Pork
General Mills
Idaho's Gem State Processing Facility
JBS
Louis Dreyfus Company, largest soybean processing and biodiesel plant in the country
Maid-Rite Steak Co.
Maricopa Food Pantry
McCrum Potato Facility
Nestle
Nutrien Ag Solutions Fertilizer Plant
Raw Farm, largest raw milk producer in the country
Rio Fresh
Shearer's Foods
Smithfield Foods
Taylor Farms
Tyson
Wisconsin River Meats
In February, the Weaver Fertilizer Plant in Winston-Salem caught fire, burning several hundreds tons of ammonium nitrate during a time when farmers were already concerned about getting enough fertilizer due to supply chain disruptions and inflation.
So in an effort to make matters worse, without any advance notice, on April 8, 2022, Union Pacific began mandating railroad shipping reductions by 20%, impacting CF Industries Holdings, the world's largest fertilizer company. Vanguard, BlackRock, and State Street happen to be the top shareholders of Union Pacific, and BlackRock and Vanguard are in the top 3 shareholders of CF Industries Holdings, along with T. Rowe Price Associates. This will directly impact key agricultural areas such as Iowa, Illinois, Kansas, Nebraska, Texas, and California. This will ultimately effect food supply and pricing. CF Industries is only one of 30 companies dealing with these restrictions.
The Canadian National Railway (CN), which runs from New Orleans up through Illinois, branching out through Michigan and Minnesota, up into Canada, alleges to be helping the fertilizer market grow. Are any of these affected companies utilizing CN?
Coincidentally, Bill Gates holds the largest ownership stake in CN.
Surely, Bill Gates and friends will save the day through their Breakthrough Energy Ventures, whereby they have heavily invested in alternative fertilizers.
The Breakthrough Energy Coalition launched in 2015 and originally listed the full group of 28 involved, which has since been scraped down to Bill Gates and the occasional mention of Jeff Bezos. It's important to understand just how large this group is and how involved they've become in the energy sector. Corey's Digs covered this group in a 2019 report involving dozens of islands they were infiltrating to run alternative energy and takeover their tourism. The University of California is part of this group, as well as Jeff Bezos, George Soros, Richard Branson, Jack Ma, Mark Zuckerberg, Marc Benioff, Reid Hoffman, Tom Steyer, Meg Whitman, and Nat Simons.
Bill Gates explained his love for fertilizer in 2018 while in Tanzania. Coincidentally, Gates-led and Rockefeller-funded Alliance for a Green Revolution in Africa (AGRA) has been an epic fail, with a first ever evaluation report that came out on February 28, 2022 after a 15-year effort with bold claims to rescue Africa's small farmers. Their false promise to "double yields and incomes for 30 million farming households by 2020" was removed from their website in June 2020 after an assessment by Tufts University revealed little evidence of progress, and in fact showed a 31% increase in hunger. Evaluators stated there were many deficiencies and AGRA's reporting and monitoring data was weak. Even the German government is considering pulling funding from AGRA over their pesticide use, which is ironic because Gates claims we need to remove pesticides in the U.S. and move to indoor vertical farming. Yes, USAID will of course continue their support to AGRA, having already contributed $90 million taxpayer dollars thus far. Full summary here.
One of AGRA's biggest achievements was their participation in 72 agricultural policy reforms in 11 African countries, pertaining to seed, fertilizer and market access. Laws were created to protect intellectual property rights for "certified" seeds, as penalties were created for open-source seed sharing. Imagine being a farmer, homesteader or gardener and having to share and trade seeds on the black market so you don't get penalized. Anyone who believes they won't try this in the U.S. is kidding themselves, especially since the globalists hold the largest private seeds banks, and invest in the largest commercial seed companies. BASF, Corteva (formerly Dupont), Syngenta (part of ChemChina), and Monsanto (now Bayer) control roughly 50% of the global seed market.
On March 17, 2022 a notice was published to the U.S. Federal Register seeking comments by May 16, 2022 on Competition and Intellectual Property System: Seeds and Other Agricultural Inputs. Remember to read through the proper lens when reviewing this document notice that derived from an executive order signed by Biden in July, 2021 on promoting competition in the American economy.
Their ultimate goal – every human being, every piece of food, resource, and product on this planet will be tracked and traced via blockchain. This isn't a theory – it is their goal. In July, 2021, the FDA released their "New Era of Smarter Food Safety" which consists of using tech-enabled traceability for a digital, traceable food system, from farm to plate using blockchain. A digital identity to grant access to establishments, control financial spending, and trace everyone's moves has been rolling out on multiple fronts, including the vaccine ID passport. Eventually they will try to move toward a chip, as it will be easier with biometrics being installed everywhere.