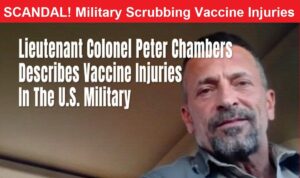 by Brian Shilhavy
Editor, Health Impact News
Lt. Col. Peter Chambers has a 38-year career in the military. He is a Green Beret Commander having served in the Special Forces, and he is a military doctor, serving as a flight surgeon and combat medic. He has earned the Purple Heart and Bronze Star Medal, as well as other military awards for his service.
Lt. Col. Peter Chambers became a whistleblower after suffering neurological issues following mandatory COVID-19 vaccines, and seeing similar vaccine injuries in other soldiers, including: strokes, blood clots, cerebral bleeding, and various neurological injuries.
He began to research vaccine injuries following the COVID-19 vaccines that were mandated for service members, in the Defense Medical Epidemiology Database (DMED) sponsored by the DOD.
He has most recently been deployed in Texas, near the Texas-Mexico border as a task force surgeon, where he began to provide "informed consent" counseling to over 3000 soldiers at the border regarding the COVID-19 vaccines, sharing with them the data he had uncovered in DMED, VAERS, NIH and other government sources.
Being in Texas, he also informed them that doctors could prescribe early treatments for COVID, such as Ivermectin, which are very effective in overcoming the symptoms associated with COVID-19.
As a result, only 6 service members out of 3000 decided to comply with the COVID-19 vaccine mandates.
Dr. Chambers was approached by a 2-star general who asked why his vaccination rates were so low, to which he replied:
Sir, we have a regulation, AR 40-562 chapter 8 paragraph 4, clearly states that under emergency use authorization, I must do informed consent. It's a regulation.

Sir, I do things legally, morally, ethically, and first of all "do no harm."
The general allegedly became very angry with Dr. Chambers and stated:
You will cease and desist giving those informed consents.
Dr. Chambers looked at him straight in the eye and replied:
Sir, that is an unlawful order, and I will not follow that order.
The general then allegedly fired him on the spot, and Dr. Chambers' military career was basically over at that point.
Dr. Chambers replied:
OK. But Sir, I am the only medical doctor down here on the border. Do you have anybody else? We're getting shot at once in a while, you know that, I am a combat trauma doctor, and I've stopped a lot of bleeding.
After informing the general that he had filed a whistleblower complaint, the general did some checking, and about an hour later stated that Dr. Chambers was not fired, but that he would be replaced.
Dr. Chambers had joined Dr. Theresa Long, another military doctor who is also a flight surgeon, in a lawsuit filed by Attorney Thomas Renz against the U.S. Military's mandatory COVID-19 vaccination program.
Listen to the whole interview between Dr. Chambers and Steve Kirsch recorded back in March of this year. It is 21 minutes long, and WELL WORTH the time to watch!
At the end of this interview, Dr. Chambers stated: "If we don't stop this, our military is going to be decimated."
Within a day or two of this interview, their whistleblower case reached the U.S. Supreme Court which ruled 6-3 against Navy Seals being entitled to a religious exemption for COVID-19 vaccine mandates.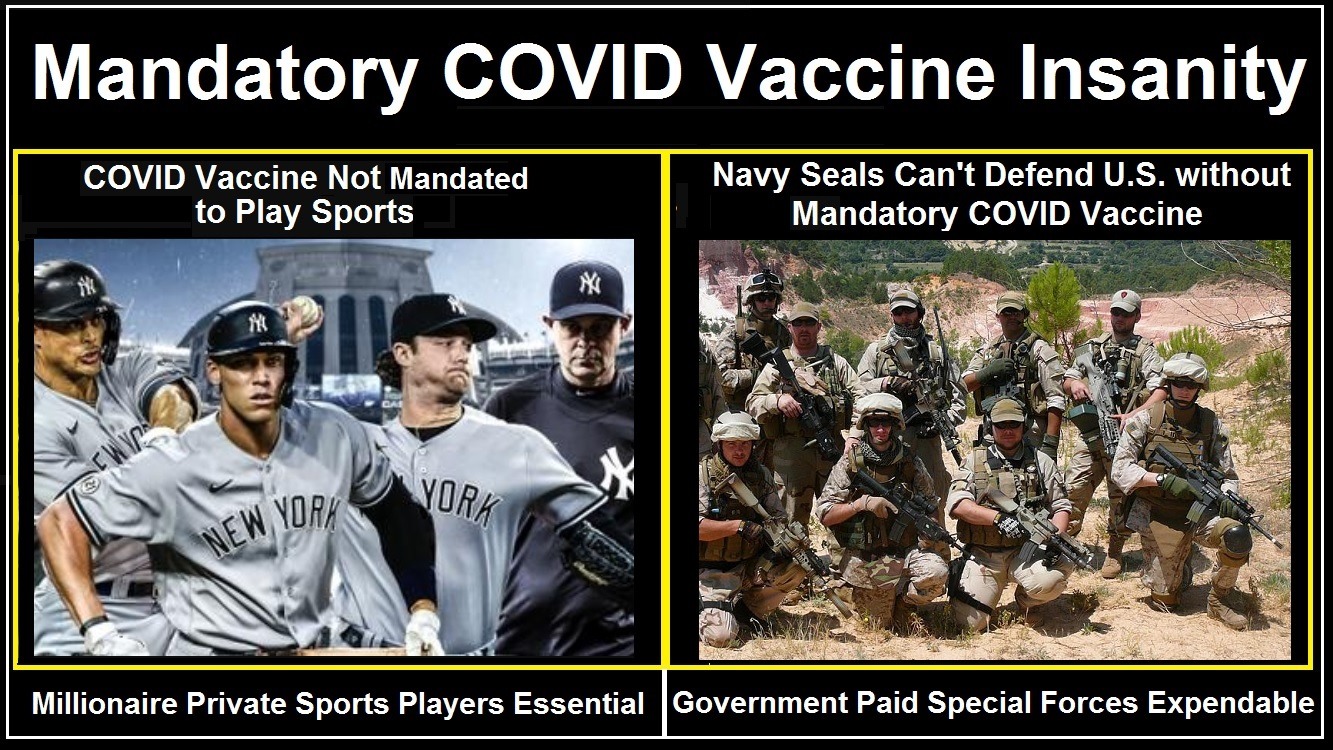 At the same time, New York City Mayor Eric Adams issued an executive order that exempted professional sports players and the entertainment industry from having to comply with COVID-19 vaccine mandates. See:
Now, Just the News is reporting that Dr. Chambers and other military medical doctor whistleblowers can no longer depend upon the data in DMED because "[The] DOD took down, edited and restored the Defense Medical Epidemiology Database earlier this year after whistleblowers including Chambers testified on the reported spike (in vaccine injuries) in a legal challenge."
The department told PolitiFact …. the 2021 spike was the product of a "glitch" that caused severe underreporting of 2016-2020 figures. That would mean the military underreported cases by about 20 million a year during that period, whistleblower lawyer Tom Renz said.

Chambers told Just the News that DMED used to be more trustworthy than the government's Vaccine Adverse Events Reporting System but now it's "completely unusable" because DOD changed many diagnoses that suggested vaccine injury after the military doctors went public.

Working on the border with the Texas National Guard, he personally observed highly unusual problems in "a healthy population that should not be seeing these things," from myocarditis to "brain bleeds," and continues to receive similar reports in his "retirement section."

Chambers said he developed demyelination after getting the Moderna vaccine in January 2021, which led him and Lt. Col. Theresa Long, another whistleblower, to review DMED.

He has more freedom to speak than Long, who was supposed to testify alongside Chambers until her commander gagged her from discussing DMED data the night before the hearing,

Long would face prosecution, jail time and dishonorable discharge for ignoring a direct order even if she later overturned the gag, according to Chambers, describing Long's command as "vitriolic." She didn't respond to queries.

Chambers, Long and lawyer Renz joined a group letter to the Federal Aviation Administration in December, demanding the medical "flagging" of all COVID vaccinated pilots and their testing for heart problems.

They alleged federal law prohibits commercial airline pilots who had taken emergency use authorization vaccines from flying, and imposes a 12-month observational grounding for newly approved vaccines such as Pfizer's Comirnaty.

After vaccinated pilot Robert Snow suffered cardiac arrest shortly after landing an American Airlines flight, anti-mandate pilots group U.S. Freedom Flyers accused the FAA of ignoring the risk to flights from such adverse events. (Full article.)
Is Our Military Healthy Enough to Defend Our Country?
It appears to be a forgone conclusion now that our military is "being decimated" by COVID-19 vaccine injuries, just as Dr. Chambers stated back in March, at the same time that the current Administration is picking fights with Russia over Ukraine, and China over Taiwan.
What happens next? Will a foreign force or perhaps a UN force be able to just annex the United States and take over our government without even having to fire a shot?
Are there still enough soldiers left in our armed forces to repel a foreign invasion? Are there enough local militia groups and honest law enforcement, such as Constitutional Sheriffs, left to defend our neighborhoods?
We are most certainly living through some very dark times now, and the vast majority of the public is still clueless to the real dangers we now face, and that appear to be imminent.
What is currently happening in China to the people living there should be a real wake-up call to the types of measures that the Globalists want to implement here.
DOD Edits Medical Database to Hide Military COVID-19 Vaccine Injuries as U.S. Military is Decimated by the Mandatory Shots