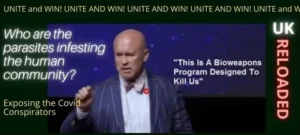 Intro by David Linden
We've been saying for two years that what we are witnessing is a war on humanity, by which is meant a war on YOU, the intent of which is to destroy your liberty and well being and, even more importantly, that of your children and children's children.
Fortunately a great many people have become alert to this fact and begun, as people do when they realise they are under attack, have begun to mobilise to defend themselves and their loved ones and communities.
It is worth remembering that the American Revolution was won with less than ten percent grass roots support and the Freedom Movement is already well past that number. Its growth is accelerating as the shenanigans of this contemporary but more covert empire become increasingly obvious.
It is worth remembering too that the enemy is akin to a parasite that has latched on to the human community and, whilst producing nothing of value itself, seeks to gorge upon the creativity and productivity of millions of honest human beings.
So in some respects the analogy of a war is less apt than to liken what is happening to the effort of the human community to remove a parasitic infestation that has grown so large as to risk killing the host.
Be all that as it may, the following article from The Conservative Woman (highly recommended) is well worth a read for some canny insights.
And the venerable Dr David Martin referred to in the article  is well worth acquainting yourself with if you haven't already. You can for instance view his video briefings on Bitchute here
No more Mr Nice Guy! Doc Martin's vow to expose the Covid conspirators
FIVE months ago in Louisiana, the ever-charismatic Dr David Martin (look here and here for related TCW Defending Freedom articles) gave what he said would be his last speech as his current self: 'Let me clarify what I mean by that – you'll hear a lot of me from now on, but you're gonna hear a different version of me.
'I'm done with Mr Nice Guy. I will speak where we the people decide that it is time this country does not allow any organisation, any institution, any financial interest, ever, EVER, in the future to kill five-year-olds in the name of science or in the name of policy or in the name of anything else. I am done being Mr Nice Guy!'
Martin then exploded into a high-octane exploration of whom he believes to be the conspiratorial agencies behind the Covid-19 frontmen of Big Pharma.
In light of the UK vaccination campaign having now been rolled out to five-to-11-year-olds (alongside the rapidly concretising false narrative that we are now back to normal; as the sins of the last two years recede from public memory and as plans are hatched for more of the same), I revisited Martin's speech, and was reminded of how his frenetic, emotionally-charged, frequently theatrical and entertaining delivery often distracted somewhat from the core message, at least to me.
What follows, therefore, is an edited transcript of sorts (all Martin's own words) to help clarify the salient points of a pertinent presentation.
Regardless of whether one agrees with Martin or not, his words remain fine fodder for thought.
'We energise the forces of darkness when we anonymise them, and when we see their faces on a screen, we realise that they are merely individuals who have lost the social contract with humanity that says that we the people are entitled to life, liberty and happiness. So guess what's happening today? I'm gonna give you the people that need to be outed – the They.
'The slides behind me are the living proof that this is a criminal conspiracy of domestic terror. Let's start back in 1990 – Pfizer filed the first coronavirus vaccine patent on canine coronavirus. And you know what that vaccine was? The S1 spike protein.
'The S1 spike protein is a weapon: it is not from nature. In 1999 Anthony Fauci decided to use that particular protein sequence as a vaccine vector, and he asked Ralph Baric at the University of North Carolina Chapel Hill to make, and I'm quoting, an infectious replication-defective clone. What does that mean? That means amplify the harm to human: make it more lethal.
'Since 1999 Ralph Baric has received over 100million dollars to weaponise the particles of coronavirus. You've heard of about 3.7million dollars going to Wuhan: Oooh, feels like a bad number. But how about over 28million dollars of that [$100million] coming from DARPA [the US Defense Advanced Research Projects Agency] for their bio-weapons initiative? You haven't heard about that because we've been talking about 3.7million dollars going to Wuhan. Stop being distracted by the cover story! If it's a reflex, stop falling for it!
'Please stop talking about the Chinese virus: there isn't one. Please stop talking about the virus: there isn't one. There's a bio-weapon that was built in 1990, perfected in 1999, patented in 2002, and deployed against humanity in 2002, which gave us the first outbreak of SARS.
'And they can (now) lampoon us and undermine us every time we open our mouth because we're using the wrong language: the language of vaccine, the language that keeps us enslaved. We need to start using the correct language, because you know what a parent won't do? If we actually tell them their kids are getting injected with a weapon, we would have less parents injecting their children.
'I haven't done this before, but I'm gonna do it just because I'm frustrated with people telling me I'm technically incorrect. So for all the fact-checkers at Reuters, Snopes and USA Today who can't actually read, I'm going to read what a bio-weapon is from 18 US Code Section 175: "Whoever knowingly develops, produces, stockpiles, transfers, acquires, retains, or possesses any biologic agent, toxin, or delivery system for use as a weapon, or (OR!), knowingly assists a foreign state or any organisation to do so, or attempts, threatens or conspires to do the same, shall be fined under this title or imprisoned for life, or both."
'How many of you are familiar with the company ANSER? Do you know that they are the single largest contractor in the entire Covid terrorism campaign? You do now.
'It turns out the companies on the Right (Pfizer, Moderna, Johnson & Johnson et al) that you think are running the show are in fact the front – they're the ones that are supposed to take the flak and take the heat. The ones on the Left are the ones that actually got the money.
'Operation Warp Speed went to ANSER, but you were told by the media that it went to Pfizer and Moderna (et al), but that's not true. The prime contract of Operation Warp Speed went through a company none of you have heard of, and you didn't hear about them because the contract that was signed was signed with a company called ATI, whose history has been government defence contracts for the purpose of propaganda.
'Now, they were cunningly selected for the following reason. We have a world in which there are things under the 1986 Act, and under the 2005 CREP Act that actually shield manufacturers from liability. But inside of [these Acts] there is a tiny little clause/problem, which is if any actions taken to declare a state of emergency are part of a wilful misconduct or criminal conspiracy, the liability shield gets pierced and the manufacturers of the drugs are liable for every injury and every death.
'ANSER is the way for the federal government never to be liable for the criminal conspiracy they know they ran, and are now one of the top ten federal contractors in history, below Lockheed Martin, Raytheon and all those guys.
'Those names you know. But you don't know ANSER – the company that by Covid rose the highest single-year rank-rising in the history of federal contracting. They're the target, but we're aiming for the decoys and wondering why no ducks are on the table!
'And one day everybody's gonna go: Let's go sue Pfizer, and the only problem is when we go to sue them they're gonna go: Hey! It wasn't us! And they're right. And all of us were asleep.
'Anybody know Fors Marsh? They're the agency who branded Covid. They're the ones that make sure that we find hospitals that are overrun with people, and they're the ones that find kids who died of Covid right before the Food and Drug Administration needs to vote on giving kids injections.
'They're the ones that go around the world making sure that every message is always the same – we will not return to normal until we have a vaccine. Thank you Justin Trudeau, where did you get the script? From Fors Marsh!
'How about Palantir? A company that has lost two million dollars plus every year for about seven or eight years; goes public in the middle of Covid – in the middle of the worst economic cycle we've had – and then got personally enriched by using the public market as a laundering facility. Isn't that brilliant?
'Let's look at what they did for our Covid scandal. They actually came up with a thing called Gotham Data Tracking – that's making sure that every time you turn your phone on when you get off the plane, or when you cross the state line, it gives you a little tag that goes: Hey, you want a Covid alert in your neighbourhood?
'How about Publicis Sapient, who have the Department for Health and Human Services IT contract to consolidate all of the data, so that everybody has the same number of Covid cases to report when somebody from the media calls and says: Hey, how many cases do we have, oh, 40,000? Round number isn't it? But there's never been a round-number-day of cases, of cancer, of anything – until you actually control the HHS's entire IT platform.
'But this, ladies and gentlemen, is the slide you wanted to see. This is actually the names and faces of the people who are in fact killing humanity. Some of them are actually kinda interesting, like cellist Yo-Yo Ma, Queen Raina of Jordan, and Zhu Min.
'What makes these individuals interesting is that almost none of them have sought any public visibility, which makes me pick on one of them – and I have to give him credit because he has done so much to stay out of sight – the guy who's paid every search-engine optimisation to keep his name out of search engines, Dustin Moskovitz. Let's talk about him for a minute.
'Dustin Moskovitz – the co-founder of Facebook that you've never heard of, and also the guy who funded Open Philanthropy, who was the actual cheque-writer for Event 201. You were told that it was the World Economic Forum, the Bill & Melinda Gates Foundation, and the Johns Hopkins University, but the actual cheque that cleared for the programme was signed by none other than Dustin Moskovitz.
'Now I'm picking on him for a good reason – he's a felon, he's a criminal; he is one of the most sociopathic, psychopathic crazy people who is walking this planet, and he's paid to keep his name private.
'Isn't it interesting that Dustin conveniently decided to shroud this entire public health crisis in a self-serving, self-interested investment objective? He owns Sherlock Biosciences, who happen to be the company that owns the CRISPR technology that is the joint venture between the United States and China on gene-editing the human genome. Anybody feeling good about this?
'Dustin Moskovitz knew that if he actually tried to take this technology into the public, nobody would be willing to do it, particularly given the fact that it's a joint venture between him and the government of China. That's the reason why we'd have a problem with it, because it feels like eugenics. You know why it feels like eugenics? Because it is eugenics.
'The only way he could get gene-editing approved was with emergency use authorisation. Not surprisingly, once everybody was distracted by vaccines and PCRs, Sherlock Biosciences slipped their emergency use authorisation into the FDA, and got it. In other words, using the cover of Covid – which all of us are pretending to talk about – the editing of the human genome was approved and not one of us said a thing.
(New slide)  
'The stupid idea of drawing lines all over maps and calling them countries has long been dead. The real control is in what I call the Atlantic Coalition of Doom – BlackRock, Axa, the International Monetary Fund, HSBC, ICBC, and, you guessed it, United Healthcare.
'But Dave, you're picking on people who help take care of people! – no I'm not. United Healthcare is a corrupt organisation that must be called what it is. It is actually the most manipulative corporate structure known to humanity because what it does is it matches life insurance and insurance products with the delivery of healthcare so that it can bet against the timing of your death – the wet dream of the Lloyd's of London syndicate. They put two things together, which is they get to manage your life so that they can time your death – so they can profit on both.
'We must remain organically undefiled from birth to death. Many of you think that I mean injections or ingestion. That's not what I mean. We have the right to ensure that what goes into our ears does not defile us. We have the right to make sure that we are exposed to frequencies of truth, and we are entitled to that by virtue of our existence.
'We [Martin's team] are going to actively take on the structures that I just showed you, and what we're going to do is create a blockchain NFT Platform which is going to take all of the evidence of all the crimes that have been done by every one of these perpetrators, and we're going to be releasing that.
'We're going to build a community that actually allows every individual to take action, to make sure that these organisations and institutions are held accountable financially for the things they've done. And we're going to use the proceeds of that to make sure we fulfil the social contract that we the people have failed.
'Because the social contract is this: There are tons of men, women and children around this country who have actually been injured by the pathologies that you've seen talked about, and what we're going to do is use the proceeds of the transactions that we make to make sure that we the people are accountable to the families of vaccine-injured children.'
That was November 2021. Watch this space?