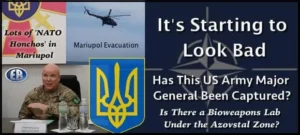 ER Editor: It is linked to below, but we do recommend reading this Sitrep for April 5, 2022 by Night Vision for The Saker blog. It is most informative. See Sitrep: Operation Z
********
Rumours keep swirling of Western military advisers trapped in Mariupol
There have been unconfirmed rumors on social media that US Army Major General Cloutier has been captured by the Russian forces in Mariupol.
FREEWEST MEDIA
Intel Slava Z, a Telegram channel, reported earlier that NATO officers from Germany, France, the UK and Sweden were trapped with Azov fighters in Mariupol.
Some frantic efforts to rescue these trapped individuals have been recorded. Western powers would not like to see NATO commanders or mercenaries eventually paraded with Azov fighters for obvious historical purposes. The optics of fighting for Nazis is not a popular one.
There are even rumors of a captured US general but they could not be confirmed. The general in question is to the Ukrainian military what Victoria Nuland is to Ukrainian politicians – an instrumental figure.
US Army Major General Cloutier may have been captured by the Russian forces in Mariupol. As an old-school, hands-on military man, he was photographed many times on the ground inside Ukraine before the war, training the Ukrainian Army to NATO standards. In a press conference Cloutier described Ukrainians as his brothers.
The British were incidentally aiding the Ukrainian Navy while France had trained the air force.
Cloutier would have been instrumental in the planned Ukrainian assault on Donbass and such a knowledgeable man would be keen to be on the ground helping to co-ordinate the combined American, British and French intelligence and technical support to Ukraine during the preparation of the assault on Donbass. "His arrogance may also have got him trapped inside Mariupol," one source pointed out.
Another fact which may point to the importance of those trapped inside the steel plant in Mariupol: According to French researcher Thierry Meyssan, on March 29, 2022, General Eric Vidaud, director of French military intelligence, was dismissed and no official explanation was given. "It seems that in reality, General Viaud had deployed men on the direct instruction of President Macron's private staff, in 2021 when he was commander of special operations, to supervise the Azov Banderites regiment."
Two of the five Ukrainian helicopters that had tried to flee the stronghold of the Azov regiment, after the Russians had encircled Mariupol, were shot down on March 30. The survivors were taken prisoner by the Russian army and were quite co-operative. Reporters near the scene have meanwhile found items belonging to French soldiers. According to unconfirmed rumours, a second attempt to flee via helicopter has also failed.
"The soldiers of the Special Operations Command are placed for all logistical matters under the orders of the Chief of Staff of the Armed Forces, General Thierry Burkhard, but they take their orders directly from the head of the armed forces, President Emmanuel Macron," Meyssan explained.
Special operations helicopter pilots are not usually dispatched to exfiltrate mercenaries or even intelligence operatives, unless they happen to be senior CIA, MI6 or Mossad agents, a source said. "Much less would highly skilled and valuable Spec Ops pilots be sent on an ultra high risk mission twice." Unless of course there happens to be high-level individuals trapped in the steel plant.
Attacks on Ocativ by the Russian navy is believed to be connected to British Sea Skua missiles being set up, suggesting further measures to ensure that such operatives are not taken prisoner.
"Although Sea Skua is an old system, the British have large stockpiles of them and they can be set up on a ground launch platform and fired from cover, a truck, inside a warehouse. They would make a mess of Russian supply ships and landing craft."
The British have so far supplied thousands of missiles to Ukraine in the form of NLAWs, and now Starstreak, a short-range man-portable air-defence system. Boris Johnson earlier confirmed that anti-ship missiles would be sent to Ukraine.
An American General, co-ordinating Ukraine's efforts against Russia together with NATO, could expose the direct military involvement of NATO and therefore its active participation in the war.
War commentator Pepe Escobar is certain that NATO advisers are still trapped in Mariupol:
"Yes, there's an array of NATO honchos still holed up with the Azov neo-Nazis in the bowels of Azovstal. Yet the key is what was going on in this underground eight floors down."
According to Escobar there is a bioweapons laboratory in a deep bunker in which civilian prisoners of the "Biblioteka" are tortured and possibly exposed to human experiments. "The 'pit' may have been a NATO-run underground bio-lab at Azovstal."
Avostal's owner Rinat Akhmetov, a Ukrainian billionaire and oligarch, has been involved in these experiments, said Escobar.
************
Published to The Liberty Beacon from EuropeReloaded.com
Rumors Keep Swirling of Western Military Advisers Trapped in Mariupol