TAP UPDATE 2pm GMT 14.4.2022 – I lifted the picture of the ship on fire from a Russian website, but they had lifted it from the web.  It turns out to be a picture of another incident not the Moscva.  There is a lot of fog around this story.  Until we see a picture of the Moscva it will hard to know how badly damaged the ship is.  The Sheffield was hit by an Exocet during the Falklands War, did not sink but was totally burned out.  The Moscva is now claimed to be serviceable and still able to fire all its missiles.  Let's see.
While it's sad to see the Moscva sunk (I saw her in Sevastopol in 2004 looking very new and impressive during my visit to assist the Crimean Russians negotiate the Colour Revolution in Kyiv). That said ships are so vulnerable to missile attacks as we found out in the Falklands. I don't know why countries make warships any more. It's such an easy propaganda coup to sink them. It's the usual way they escalate wars – have a naval catastrophe to keep the pot boiling.
The Ukrainians have an extraordinary number of troops in Mariupol. Are they hoping for reinforcement from NATO as Ukraine has nothing to offer them? That said who fired the missiles that sunk the Moscva? Was it Nato? The war could easily widen from here with Russian military voices unhappy that the High Command is dealing with the strategic planning very well. Scott Ritter thinks Russia is playing it right however – taking her time to grind down Ukrainian forces step by step, and eliminating NATO weaponry as it arrives in the country, and overseas troops as they arrive. It will be a long slow grind to bring this to a close but Russians seem to be hardening in their support of Putin. They have a long history of fighting Nazi regimes and defeating them – at some cost. The only thing that I can't get my head around is why is Britain providing assistance to the worst Nazis in the world?
All the comics I read as a boy portrayed Nazis as the baddies.
Shouldn't someone tell Boris Johnson he's butchering the wrong side?
On the night of 13-14 April, the flagship of the Russian Black Sea fleet, the cruiser Moscow, was sunk or seriously damaged. A ship of this class in the Black Sea conditions could have been successfully attacked either by a complex of anti-ship systems, including both missiles and aircrafts, or by a submarine. In any case the NATO military was directly involved in the attack.  www.southfront.org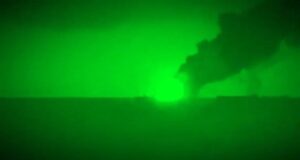 Starts talking about Ukraine at 6 minutes.  Scott Titter is adamant that Russia will win.
Number of Ukrainian servicemen surrendered in Mariupol climbs to
1,350, DPR says
On April 13, the Russian Defense Ministry informed that 1,026 Ukrainian servicemen of the 36 Marine Brigade surrendered, including 162 officers
DONETSK, April 14. /TASS/. The number of Ukrainian Marines who surrendered to Russian and DPR servicemen in Mariupol has reached 1,350, the DPR Territorial Defense Headquarters reported on Thursday.
"Our warriors continue to capture the militants of the 36 brigade of Ukraine's armed formations in Mariupol. As of the evening of April 13, 1,350 Ukrainian Marines have surrendered," the agency said on its Telegram channel.
On Wednesday morning, Russian Defense Ministry Spokesman Major General Igor Konashenkov said that as a result of a successful offensive of Russia's Armed Forces and the Donetsk People's Republic Militia, a total of 1,026 Ukrainian servicemen of the 36 Marine Brigade surrendered, including 162 officers.