Russia calls Security Council meeting over Bucha
Moscow insists the incident was staged by Kiev to accuse Russian military of atrocities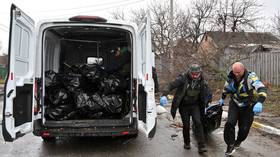 Moscow will convene an extraordinary meeting of the UN Security Council over an incident in the Ukrainian town of Bucha, Russia's deputy permanent representative to the organization, Dmitry Polyansky, said on Sunday. Ukraine has accused Russia of massacring civilians in the town, while Moscow dismissed the incident as having been staged by the Kiev forces.
"In light of the blatant provocation by Ukrainian radicals in Bucha, Russia has demanded a meeting of the UN Security Council to be convened on Monday, April 4. We will bring to light the presumptuous Ukrainian provocateurs and their Western patrons," Polyansky said in a Telegram post.
Graphic footage from Bucha, a town to the northwest of Kiev, emerged over the weekend, showing multiple bodies clad in civilian clothing scattered around. Kiev was quick to blame the Russian military for the incident, with Ukrainian Foreign Minister Dmytro Kuleba alleging it was a "deliberate massacre."
"The Bucha massacre was deliberate. Russians aim to eliminate as many Ukrainians as they can. We must stop them and kick them out. I demand new, devastating G7 sanctions NOW," Kuleba said on Twitter.
Top Western politicians were quick to back and amplify Kiev's claims, with NATO chief Jens Stoltenberg branding the incident "a brutality against civilians we haven't seen in Europe for decades."
"And it's horrific, and it's absolutely unacceptable that civilians are targeted and killed, and it just underlines the importance of, that this war must end. And that is President Putin's responsibility, to stop the war," Stoltenberg told CNN.
A similar stance has been taken by many other officials, with some explicitly pinning the blame for the 'massacre' on Moscow. French President Emmanuel Macron said, for instance, that "Russian authorities will have to answer for these crimes."
Moscow, however, has firmly rejected any involvement, accusing Kiev of staging the whole affair to frame Russian troops. The country's Defense Ministry said Russian troops pulled out of the town on March 30, with the local mayor confirming this in a video address a day later without mentioning "any local residents laying shot in the streets." The purported "evidence" of the incident emerged only four days after the withdrawal, when Ukrainian intelligence and "representatives of Ukrainian television arrived in the town," the military added, stressing that multiple inconsistencies show that the affair "has been staged by the Kiev regime for Western media."
https://www.rt.com/russia/553242-bucha-un-security-council/
https://southfront.org/afu-crimes-in-bucha-kiev-region-false-flag-propaganda-attack-against-russia-revealed-photos-video/
Envoy points to Ukrainian shelling of Bucha following Russian troop withdrawal
The Russian Defense Ministry has fully rejected these false accusations, Anatoly Antonov pointed out
Russian Ambassador to the US Anatoly Antonov
WASHINGTON, April 4. /TASS/. No civilian casualties were reported in the Ukrainian town of Bucha when it was controlled by the Russian Armed Forces, but the US media ignored the Ukrainian military's shelling of the city, which followed the withdrawal of Russian troops, Russian Ambassador to Washington Anatoly Antonov said in response to a Newsweek question.
"The Russian Defense Ministry has fully rejected these false accusations," he noted, commenting on reports of Russian troops allegedly killing civilians in Bucha. "I would like to point out that Russian troops left Bucha on March 30. The Ukrainian authorities remained silent all these days, and now they have suddenly posted sensational footage in order to tarnish Russia's image and make Russia defend itself," Antonov said.
"I would like to emphasize with full responsibility that not a single civilian suffered from violence when the town was controlled by the Russian Armed Forces. On the contrary, our troops delivered 452 tonnes of humanitarian aid for civilians," Antonov stressed. "Meanwhile, the fact that the Ukrainian Armed Forces shelled the town of Bucha right after Russian troops had left was deliberately ignored in the US. This is what could have caused civilian casualties. That said, the Kiev regime is clearly trying to blame its atrocities on Russia," he added.
The Russian Defense Ministry said on Sunday that the Russian Armed Forces had left Bucha, located in the Kiev region, on March 30, while "the evidence of crimes" emerged only four days later, after Ukrainian Security Service officers had arrived in the town. The ministry stressed that on March 31, the town's Mayor Anatoly Fedoruk had confirmed in a video address that there were no Russian troops in Bucha. However, he did not say a word about civilians shot dead on the street with their hands tied behind their backs.
MILITARY OPERATION IN UKRAINE
Bucha-related charges not trustworthy, there are signs of fakes — Kremlin spokesman
It was stressed that Moscow "categorically denies any charges" in connection with the situation
Russia considers situation in Bucha as provocation and threat to int'l peace — Lavrov
According to the Foreign Minister, Russia requested an emergency meeting of the UN Security Council on this matter
MOSCOW, April 4. /TASS/. Moscow considers the situation in Ukraine's Bucha as a provocation that threatens international peace and security and will demand the United Kingdom, which is current president of the United Nations Security Council, call a meeting on this matter, Russian Foreign Minister Sergey Lavrov said on Monday.
"We have requested an emergency meeting of the [UN] Security Council on this concrete matter, because we think that such provocations pose direct threat to international peace and security. The current Security Council president – the United Kingdom – failed to confirm yesterday that such a meeting could be organized, but we will demand it fulfill its duties," he said at a meeting with visiting UN Under-Secretary-General for Humanitarian Affairs Martin Griffiths.
The Russian defense ministry on April 3 dismissed the Kiev regime's charges its forces had allegedly killed civilians in the community of Bucha in the Kiev region. The ministry recalled that Russian forces left Bucha on March 30 while faked evidence of alleged killings was presented four days later, when Ukrainian security service SBU agents arrived in the locality. The Russian defense ministry also said that on March 31 Bucha's Mayor Anatoly Fedoruk said in a video address that there were no Russian soldiers in the community. Nor did he mention any locals allegedly shot dead on the streets.