I decided to look up all recent fires published in news given all the strange events going on such as the fireworks warehouse blowing up in Newbury, four miles or so from RAF Welford, Britain's air munitions store.  In Shropshire reports of a meteor blowing up have been placed in two local newspapers – The County Times from Powys, and The Shropshire Star.  Locals said they heard an aircraft, saw a fireball and heard an explosion at 12.45am on the 14th April, the day after Russia's ultimatum was rejected by the US and the UK.
This item appeared from my search.  It seems like nothing much until you compare the picture of a relatively small fire in the open, which might have been a stack fire, not uncommon.  It's when you are told that 18 fire crews were in attendance and that all local roads were sealed that this alerts you to wonder why were so many fire crews called out.  Two might have been enough for such a fire, not eighteen.  Why would all local roads be sealed?  Were all the fire crews from The Fire Service or were some from other Services?
The thing that also popped up in this area is that RAF Menwith is just fifteen miles away – Britain's centre for eaves-dropping, and listening in on the world.  If another missile was shot down travelling in that direction, the actions taken by the fire service would be more understandable.  RAF Menwith would be a natural target, as maybe would the radio telescopes, of which one is near the Shropshire/Welsh border where the fireball was seen by locals on the 14th April 2022.  The telescopes were set up after WW2 by radar specialists….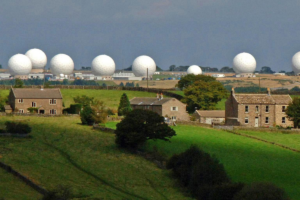 Getting back to Yorkshire –
You might say I'm clutching at straws, but really 18 fire crews for a stack fire?
Cause of fire is given as unknown.  And why would it be reported in the BBC?  It's hardly a story of national significance….
Silsden farm fire: Crews tackle blaze – BBC News
Silsden farm fire: Crews tackle blaze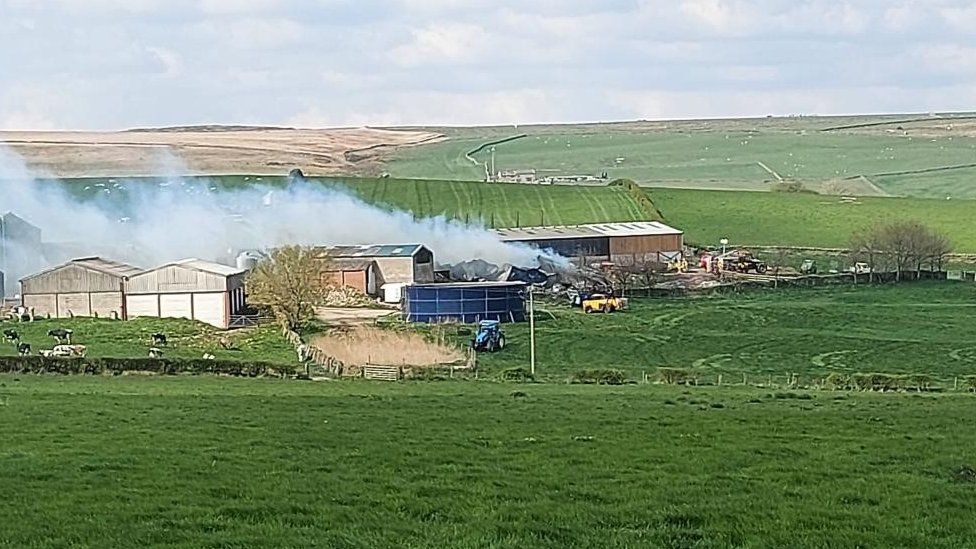 Firefighters have been dealing with a blaze at a farm in West Yorkshire.
Crews were called to the fire at the property on Green Lane in Silsden just before 14:00 BST on Saturday.
Road closures were put in place in the area and those living nearby were advised to keep windows and doors closed due to the volume of smoke.
It has now been extinguished, with West Yorkshire Fire and Rescue Service thanking the landowner, whose machinery was used to help put it out.
There are no reports of injuries.
Cringles Lane, Bank Lane, Jowett's Lane and Walker's Lane were closed for a time
More details in the local paper.  More than fifteen fire stations sent out crews….
If the stories don't stack up, there must be another explanation.
Cause of Silsden barn fire remains unknown | Craven Herald
Crews from more than 15 fire stations were called out to the incident, in Green Lane.
The West Yorkshire brigade was supported by neighbouring North Yorkshire Fire and Rescue Service.
Smoke could be seen billowing across the area, and residents were urged to stay away from the scene and keep their windows closed.
A number of roads were shut – including Cringles Lane, Bank Lane, Jowett's Lane and Walker's Lane – whilst emergency services dealt with the incident.
Several fire crews remained at the scene into the evening damping down.
TAP – Think of all the overtime!   If a fire crew has six men, that would be over 100 fire officers.  Were some in fact RAF?  In the picture shown, none of the buildings seem to be affected.  Maybe there were others now burned down but the main buildings look OK.  Think too if Britain antagonising Russia in Ukraine is a good idea or not.  The English Democrats are the only political party in the UK with a peace agenda.  Back them, and get this topic into the main media.  Or is Britain to be sacrificed by NATO to get their World War going?