The situation within the Russian political establishment is extremely unclear. The Russian Foreign Ministry's leadership has not yet commented on the recent shootings of Russian POWs.
On March 5, employees of the Russian patriotic publishing house Listva were detained by the Police in the city of Saint Petersburg, allegedly on the basis of an anonymous denunciation, as well as people who happened to be in the shop. The publishing house Listva is known in Russia as an organisation which has consistently opposed manifestations of Nazism in Ukraine. Listva provided financial support to armed units of the Donetsk and Luhansk people's republics.
The President of the Russian Federation Vladimir Putin has not spoken for several days to explain Russia's position on the situation with the military operation in Ukraine.
In its turn, statements by his press secretary, Mr. Peskov, raise more questions than answers. Especially among residents of eastern Ukraine and Russian soldiers.
https://southfront.org/day-40-war-in-ukraine/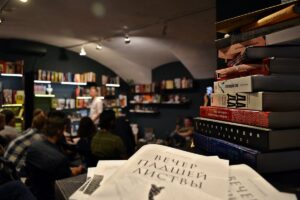 Listva Bookshop, St Petersburg