MONDAY THE 7th: SPUTNIK, TASS AND MORE: UKRANIAN MILITANTS JUST GOT BUSTED PLOTTING TO BLOW UP A NUCLEAR REACTOR SO NATO COULD GO IN
NUCLEAR FALSE FLAG PREVENTED. They wanted to say a Russian cruise missile did it
This is confirmed legit and not a hoax. I thought it had to be a hoax, it was not. The story line from my perspective because I was onto this days ago: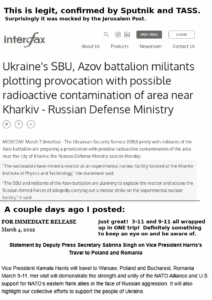 Nato had an upcoming massive false flag scheduled for Ukraine. Kamala has a visit to Europe scheduled for 9 through 11 March. It ended on march (3) – 11. I concluded therefore that there was going to be a nuclear 911 on 3-11 done by NATO in commemoration of the 3-11 Fukushima explosions.
AND NOW THIS:
I have a guess as to what type of reactor the militants were planning to blow up, but obviously I cannot confirm it. MY GUESS: It was a 100 watt zero pressure open water student reactor used for training reactor operators which contained a total of about an ounce of nuclear material. The reactor was to be for show, PURE SHOW to give NATO a harmless excuse to go to war with Russia. The scamming MSM was going to play the ignorance of the public to make it all fly. And it would have flown. It has probably already been stopped.
It might have been a bigger reactor than that, but since it was called "experimental" and not medical, it probably was one of the little training reactors. But ANY reactor will work for headlines.