Ukraine accuses Hungary of having designs on its land
Deputy PM alleges that "cheap Russian gas" and a thirst for territory could be behind Budapest's "pro-Russian" rhetoric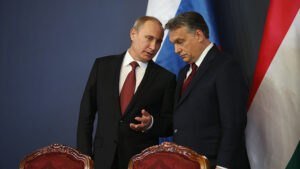 Ukraine's Deputy Prime Minister Irina Vereshchuk has questioned, what she has described as, Hungary's "pro-Russian" rhetoric, suggesting that the desire for "cheap Russian gas" or even a potential land grab could be behind Budapest's policy over the conflict between Moscow and Kiev.
In a lengthy Facebook post, the official claimed that "not even all Russian satellites from the former Soviet Union behave the way Hungary's authorities do." She said that Hungary does not support sanctions against Russia, refuses to provide Ukraine with weapons, and even "does not allow weapons from other countries to pass via their territory."
"In fact, they say 'no' to everything. A bit more – and Budapest's official rhetoric will be totally pro-Russian. What is this? Want some cheap Russian gas? Or maybe want our Transcarpathia?" Vereshchuk wrote before calling on Budapest to "join the civilized world" and "not to repeat the mistakes of World War II when Hungary made a wrong choice."
Earlier on Tuesday, Hungarian Foreign Minister Peter Szijjarto said that his country would not support anti-Russia sanctions which would cause harm to its own interests, including the penalties targeting Russian gas and oil. He also reiterated that Hungary was against any proposals involving sending NATO soldiers to Ukraine or creating a no-fly zone over the country, explaining that such actions would raise the risk of a larger-scale war.
Though the Hungarian government has condemned Moscow's attack on Ukraine and supported some sanctions, it has consistently defended its wish to "stay out" of the conflict and has refused to join other countries in sending weapons to Ukraine.
https://www.rt.com/russia/552496-ukraine-hungary-russia-criticism/
Also from Tass
Delivery of Ka-32 helicopters from Russia to Serbia faces difficulties – Vucic
We ordered them, even paid something, Vucic said
BELGRADE, March 23. /TASS/. The delivery of two Ka-32 helicopters from Russia to Serbia is facing difficulties due to the situation in Ukraine, Serbian President Aleksandar Vucic said on RTV television on Wednesday.
"We don't know how to deliver two Ka-32 helicopters," he said. "We ordered them, even paid something, but now we can't get them delivered."
"The Kamovs are the best helicopters in the world, but now we can't get them from the Russians," Vucic continued. "They would help to solve the problem of fires."
Earlier, he said that the country bought two Ka-32s from Russia to put out fires. Vucic also stated that his country intends to purchase 30 helicopters in 2022-2023, such as 10 H-145s manufactured by Airbus, four Mi-35s, three Mi-17s, and 11 used Mi-35s from one of the EU member states.
From 2018 to February 2020, Russia gave Serbia four Mi-35M helicopters, six MiG-29 fighters, three Mi-17V-5 transport helicopters, Pantsir-S1 anti-aircraft missile and gun systems, 30 T-72MS tanks and 30 BRDM-2MS armored personnel carriers as military-technical assistance.