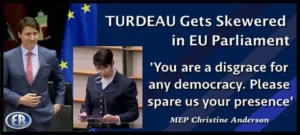 ER Editor: Edifying tweets with videos come first, then a short piece by Canadian vaccinologist, Dr. Byram Bridle. Trudeau got royally called out by at least 4 prominent European politicians in the EU parliament this week. Of course, the rest (701) are sheep, just as they are in Canada.
Here are some links to True North News, Toronto Sun and The Counter Signal for related stories: here, here, here and here.
For a (serious) laugh and video compilation, check out this video by JustinCredibleTV:
****
German MEP Christine Anderson is well-known by now for her activist work with Cristian Terhes and a selection of other brave MEPs speaking out against the tyranny of the EU during the last 2 years.
Anderson's colleague, Roumanian MEP Cristian Terhes, refused to attend Trudeau's speech:
Mislav Kolakusic is a former judge and MEP for Croatia. Find him here.
French MEP Virginie Joran – find her here. Don't worry if you don't understand French – she shows us the relatively empty Parliament chamber, as well as her sweatshirt supporting the truckers.
Translation: In #Brussels, on the occasion of #Trudeau's visit to the European Parliament, I pay tribute to all those who stood up against his insane liberticidal policies.
Not an MEP, but independent Irish senator Sharon Keogan:
Dr. Byram Bridle, who has spoken out against the Covid vaccines at considerable personal cost:
"Mr. Trudeau, You are a Disgrace to Any Democracy"
"Justin Trudeau behaved like a dictator 'of the worst kind'"
 DR. BYRAM W. BRIDLE
Canada's prime minister has become a disgrace on the world stage. People in leadership roles around the world are speaking out against him and the harms he has inflicted upon Canadians.
If only all Canadians would wake up and realize what is so obvious to members of the international community and a growing number of Canadians. Temporarily lifting COVID-19 restrictions will not return Canada to 'normal'. As long as the current leadership in our governments, public health organizations, and medical licensing bodies remain in place, Canada will remain unstable. Change needs to happen from the top down. Do not become complacent with the pacification strategy of a summer vacation from tyrannical health policies. Here are two examples of what people outside of Canada think about our leadership…
"Mr. Trudeau, You are a Disgrace to Any Democracy" Christine Anderson, Member of the European Parliament (Germany)See the message here.
"Justin Trudeau behaved like a dictator 'of the worst kind'" Mislav Kolakusic, Member of the European Parliament (Croatia)See the message here.
Like many of my compatriots, I am tired of being harassed, abused, bullied, accused, libeled, slandered, censored, segregated, judged, and hated for speaking the truth!
---