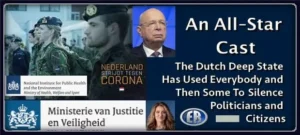 ER Editor: We do recommend reading independently the substack article by Dutch journalist Daniel van der Tuin, linked to below. It's a rather long piece which cites some research showing, among other things, the scope of the effort to influence the Dutch public by all the big players you'd expect – government, media and Big Tech outlets. As van der Tuin notes, even some of these civil servants pushing the 'deadly virus' narrative would come to believe the wider indoctrination they were participating in.
Some interesting specifics:
'The researchers discovered that the government narrative is monitored by, among others, the Land Information Maneuver Center (LIMC). For example, this unit of Defense noted in August 2020 that a growing anti-government sentiment was emerging in society. The military unit then expressed its concern that the increasing opposition to the corona measures would trickle down to the traditional media.'
The Netherlands' National Institute for Public Health and the Environment (RIVM) is just a front for medical narratives: 'They discovered, for example, that RIVM directs its media appearances very rigidly.The FOI documents show that RIVM has little interest in independent journalism: it is all about RIVM's image as a 'scientific beacon' in times of crisis.'
Celebrities and influencers were recruited, with three being 'jointly paid 55 thousand euros for a number of videos about the campaign "alone together"'
The government was in direct contact with Facebook over removing the profiles of particular people.
While this is hardly headline news about any western European government these days, van der Tuin notes that
An increasing number of people have meanwhile realized that the Netherlands is actually run by a puppet government. It is just not entirely clear who is pulling which strings. In any case, they are clearly multilateral associations and organisations. The FOI documents reveal that the authorities attach great importance to positive sentiment about NATO and the EU. It is explicitly stated that critical voices about these multilateral links must be nipped in the bud.
Journalist Michel van der Kemp focuses his discussion on the particular treatment of certain Dutch opposition figures that have refused to go along with the narrative.
********
The Dutch Government, WEF Lapdog, Spies On and Silences Critics
MICHEL VAN DER KEMP
Recent FOI-documents in The Netherlands (WOB-verzoeken in Dutch) show that a number of different government ministries have been actively involved in countering criticism of government policies during the Covid-19 pandemic. Journalist Daniel van der Tuin writes on substack that
"the state turned against its citizens and silenced critical voices in cooperation with media, big tech and influencers. There was even a 'disinformation alliance' put up."
Van der Tuin continues:
"In the past two years, millions of civilians have been hindered in expressing their opinions about the pandemic. But it's not clear how this resistance was coordinated. Whether it was critical social media posts, asking critical questions to fellow-citizens or participating in demonstrations; it was a big challenge to swim against the current, even when positions were well formulated and substantiated."
But the actions of the government have not been limited to ordinary citizens. The government has also spied on politicians, scientists, experts, critical media, and lawyers. One of the targeted politicians revealed in the FOI documents, Fleur Agema, a member of the PVV party (best known as Geert Wilders' party), asked for a debate with the minister responsible.
Agema asked the Minister of Justice, Dilan Yeşilgöz-Zegerius (see featured image), why she was being surveyed. "The ministry is surveying members of parliament, while we ought to survey the ministry," Agema noted. She requested all information and communications that had been collected on her "so I can judge for myself that what the minister is arguing is true". She continued: "I feel particularly offended. I am an honest politician, from the opposition, I only have two staff members, I am modest, and do not spread disinformation." The politician visibly became emotional.
"That's not what I do, and I like to ask a question. I want to ask why the minister is besmirching my integrity. By saying this is disinformation and untruths. If the minister upholds this position, she needs to clearly state when and where I said what."
The justice minister responded several times by saying that rumors about spying are false. She did admit, however, that media analysis and 'environment' analysis are being done in order to "map out sentiments in society". Tweets from influential members of parliament are a part of this analysis. "A member will not be followed," the minister said. A reply from the minister to parliament is expected to follow.
Tension between government and members of parliament is not new in the Netherlands.
In 2021, Geert Wilders was convicted before the Supreme Court (Hoge Raad) for his question as to whether his voters wanted to have more or fewer Moroccan immigrants. 'Fewer!' the crowd chanted. Wilders' defence team claimed that documents proved direct involvement by the then Minister of Justice, Ivo Opstelten, into Wilders' prosecution. This points to a political trial, according to the defense. The judges did not agree and threw out the objection. 
Gideon van Meijeren
Another opposition politician under scrutiny is FvD-member (Forum voor Democracy) Gideon van Meijeren. We remind readers about his first debate in parliament with Prime Minister Mark Rutte, a debate in which Van Meijeren exposed the PM for his connections to Klaus Schwab, founder of the World Economic Forum. It was this debate that led FvD to research the involvement of the World Economic Forum and the government. In what became known as the 'WEF-papers', a close relationship between several members of parliament and the World Economic Forum was exposed.
Through the notorious Young Global Leaders program, the WEF has been shown to have 'penetrated' cabinets worldwide, not just in The Netherlands.
Many debates have since followed, which apparently have not gone unnoticed. Perhaps the reason why, on March 14th 2022, a documentary about this young politician, called simply 'Gideon,' was supposed to air in a cinema booked for the purpose. But the premiere was abruptly cancelled by the theatre.
In a statement the theatre wrote:
"On March 14, we rented out Royal Theatre Tuschinski for a private premiere of two documentaries, one of which is about the FVD MP Gideon van Meieren [sic]. We were unable to see these prior to renting the hall. Afterwards, we did not ask enough about the content of the documentaries.Visitors and employees have pointed out to us that various statements have been made about the Holocaust that are experienced as very hurtful by Holocaust victims and relatives. In light of the memory of Abraham Tuschinski, who was himself murdered during the Holocaust, we do not consider it appropriate to screen the premiere of this documentary, so we have asked the organizer of this event to look for another location."
Readers can watch the documentary with English subtitles for free (linked to below), and decide for themselves whether the documentary was cancelled for legitimate reasons. By way of reply, Gideon van Meijeren denies the allegations made by the theatre. Interestingly, the word 'holocaust' is not mentioned in the documentary, and we remain puzzled how customers and employees could have been familiar with the content of a documentary that was yet to premiere. We do realise the deep imprint the Second World War left, particularly on Western Europe. But perhaps there is a what's called sensitivity quadrant.
We don't know if there was political pressure put on the theatre.
************
Published to The Liberty Beacon from EuropeReloaded.com
The Dutch Government, WEF Lapdog, Spies On and Silences Critics