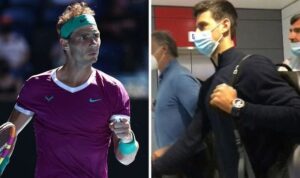 Nadal had to abandon the final in Indian Wells due to difficulty breathing and sharp chest pains which felt like needles; many comments under that video suggesting this was karma after the way he remarked about Novak and the Australian Open.
Jon Rappoport is an engaging writer who believes in the importance of using our imagination; I think this piece is brilliant, as sad as it is. He brings together so many issues and faces in one piece which is designed to entertain while being flat out honest!
Apparently the reason now being given for Nadal's discomfort is a cracked rib. Hmmmmm.
Just imagine how many hangers on Nadal employs, who would have assured him there was no risk in order to cover themselves; karma for them, now, too?
And, yes, another tragedy in the making.
What will the public believe?