Just had this disturbing link in from a UK friend who monitors Jim Stone's website:
http://82.221.129.208/1/.tm5.html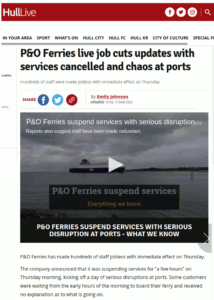 HIGHLY PROBABLE: Boris Johnson went to Dubai to be cleared to temporarily suspend 800 crewmembers of P&O ferries (owned by Dubai) so the ships could be used to transport military hardware across the English Channel by people who have security clearance.
The ferries were stopped today for removal of crew.
People are saying that's because they want to replace the crews with third worlders, but you would not fire every last crewmember over that, something else is at play – probably a re-assignment of the ferries (which can handle tanks and everything else) (comment from Aldous)
TAP –  The same people might be rehired after signing the Official Secrets Act.
The endless pro-Ukraine propaganda is a sure fire sign of what is intended to happen next.
I remember meeting a Russian 'engineer' at Crewe Station many years ago.  He was taking photographs non-stop of the station's buildings, signalling etc.  I asked who he was and what he was doing.  He said he was a Russian engineer and a railway enthusiast making a trip to photograph Britain's railway system.   I think you can follow my thoughts which were the same at the time.
Even in my son's school which takes children from aged three, you see endless 'Support Ukraine' flags in the carpark.
The writing is on the wall literally.
P & O Flagship – The Spirit Of Britain.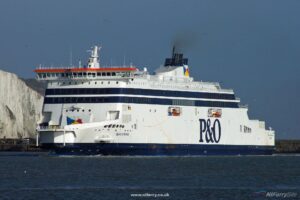 Putin's already made it clear what the consequences will be for NATO countries that interfere.  Sadly Britain will be top of the list for making an example of.