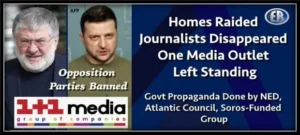 All Ukrainian media are now controlled by Zelensky and his oligarch benefactor
All Ukrainian media, without exception, have been placed under the control of the Security and Defense Council, President Zelensky announced on March 20, 2022.
FREEWEST MEDIA
Raids have taken place at the homes of the most famous journalists, particularly those who have investigated corruption cases. Some of them disappeared without it being known whether they were arrested or went underground.
The 1+1 Media Group, owned by oligarch Igor Kolomoyskyi (president Zelensky's protector and the godfather of the Ukrainian mafia), seems to oversee this control over all communication coming out of Ukraine. This is hardly a "democratic" move, but this information supports the Russian contention that the war in Ukraine is not going Zelensky's way.
The government of Ukraine has also prepared for the evacuation from Kiev. This was indicated by the decision of the Verkhovna Rada (ER: the Ukrainian Parliament) to support the introduction of amendments to two laws: "On the central authorities" and "On the legal regime of martial law". It means that the Cabinet of Ministers can now move to any other city in Ukraine.
Moreover, the simultaneous banning of opposition political parties belies the interpretation of the conflict as pitting a dictatorship, Russia, against a democracy, Ukraine. To coincide with the extreme media clampdown, armed soldiers were dispatched by the Ukrainian mafia boss to occupy a state-owned oil company. His private militia took over the offices of oil company UkrTransNafta in order to protect his financial interests.
Critical journalists have disappeared
As a reminder, all actual opposition media, including at least three TV channels, were shut down or driven underground in a wave of arbitrary, extrajudicial repression that began last summer, long before the invasion. Relatives of prominent journalists, pundits, and bloggers say their family members have disappeared or were placed in detention or under house arrest since the start of the Russian operation.
Now the few last "loyal" outlets, such as Channel 5, until recently owned by billionaire ex-president Poroshenko and closely aligned to him, have been shut down. Less than 48 hours after Channel 5 began airing doubts about Zelensky's claims related to the siege of Mariupol, the Kiev government stepped in to force all TV news programs to follow scripts handed to them by Zelensky's highly paid British and American public relations teams. The government has expressly prohibited the broadcast of any other news.
The head of the Ukrainian National Security and Defense Council, Alexei Danilov, also specifically warned OPZZh legislators to stay home, because at "our checkpoints", they would be shot. The OPZZh is the opposition Platform — For Life political party in Ukraine.
The image of the Ukrainian military standing up to a Russian Goliath has been carefully cultivated through a propaganda campaign by an army of anti-Russian influencers and praised by a NATO commander as "really excellent in stratcom — media, info ops, and also psy-ops".
He told the Washington Post: "Western officials say that while they cannot independently verify much of the information that Kiev puts out about the evolving battlefield situation, including casualty figures for both sides, it nonetheless represents highly effective stratcom."
News site PRWeek maintains that the propaganda initiative includes more than 150 public relations firms, spearheaded by Nicky Regazzoni and Francis Ingraham, a top public relations consultant with close ties to the UK's government. "Ingraham previously worked for Britain's Conservative Party, sits on the UK Government Communication Service Strategy and Evaluation Council, is Chief Executive of the International Communications Consultancy Organisation, and leads the membership body for UK local government communicators, LG Comms," according to a report from Mint Press.
Ukraine's Ministry of Foreign Affairs relays "key messages" and approved content through Yaroslav Turbil, described on his LinkedIn page as "Head of Ukraine.ua — Ukraine's digital ecosystem for global communications. Strategic Communications & Country Brand Promotion".
But their efforts were not always "highly effective stratcom". Turbil was incidentally responsible for the Snake Island farce. President Zelensky had even held a press conference announcing that he would award the Hero of Ukraine medal to the "dead soldiers" until they all turned up alive and well.
Zelensky's call for foreign fighters has been another failed PR operation with dupes now discovering that they will be used as cannon fodder. There are more examples of fake "bombings" of nuclear plants and "war" images from video games which have been exposed for what they are.
NATO's troll farms
But the network of Zelensky's paid media shills is nevertheless formidable and relentless.
"Another anonymously-penned investigation shows how Ukrainian public relations firms have used targeted advertisements to astroturf Russian internet and social media networks with messaging calling to economically isolate Moscow and 'stop the war'. This effort is led by Bezlepkin Evgeny Vitalievich, who uses the alias Evgeny Korolev, along with Pavel Antonov of the Targetorium organization."
Facebook has meanwhile been marking statements by Russian officials, including the Ministry of Defense, as "false" thanks to the efforts of StopFake, a self-described "fact checking" outlet funded by the National Endowment for Democracy, Atlantic Council, Czech and UK foreign ministries, and the International Renaissance Foundation, which is funded by billionaire George Soros' Open Society Foundation.
The coordinator of the public relations agency, One Philosophy, in Kiev, has worked with the US State Department and advised former President Petro Poroshenko. She is also co-founder and board member of Ukraine Crisis Media Center, funded by the US Agency for International Development, the National Endowment for Democracy, the US Embassy, and NATO, among many others.
These are but some of the public relations efforts underway to support Ukraine.
War lobbying in Washington intensifies
Former US ambassador to Russia Michael McFaul described the network of public relations professionals and pro-war lobbyists surrounding the Ukrainian president as a well-established communication architecture. "These are people around Mr. Zelensky who are like the intermediaries and interlocutors. They've been interacting with the American elites and American media for a long time," he said.
McFaul actually acts as informal advisor to Zelensky. He told Politico that he spoke to Ukrainian government officials "probably everyday," and "has helped them make connections with NBC or MSNBC producers".
Highlighting their close relationship, Zelensky held a "strategic video call" with McFaul before he addressed Democrats in the US House of Representatives recently.
Published to The Liberty Beacon from EuropeReloaded.com
All Ukrainian Media Are Now Controlled by Zelensky and His Oligarch Benefactor