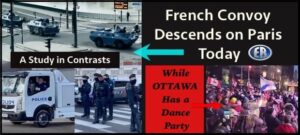 ER Editor: Convoys from around the country were supposed to converge on Paris last night, Friday Feb. 11. Word is that few truckers own their own trucks, so people – truckers and supporters alike – will be using cars and smaller vehicles. We see that in the tweeted videos below.
The perimeter of Paris itself (as opposed to the surrounding towns which house millions of people, called the Ile de France) is marked by a huge ring-road called the 'périphérique'. This is likely how many out of town vehicles would enter the city. But police have check points at these entries. See the tweet below.
Saturday normally sees a number of anti-government protests in Paris anyway because of the vaccine pass, etc. Today's protests, which would have celebrated the truckers, have been cancelled. For the convoy of vehicles and drivers, they're supposed to converge in the south of Paris around 11am, to drive to the iconic monument at Nation starting at 2:30pm. At least, that is the plan. By Tuesday, all convoys around Europe should be in Brussels.
Word is that around 3,000 police vehicles will be patrolling and controlling events in Paris today, which could ironically mean that it is police vehicles blocking the city, not the protestors'.
And yes, as a smart twitter comments below, this is definitely a Gilets Jaunes (Yellow Vest) type of event. They haven't gone anywhere.
***
Just as a point of comparison, this is how Ottawa looked last night, and it's already been 12-13 days since the truckers arrived:
***
This is how the périphérique looked around Paris this morning, Day 1:
Translation: Part of the #ConvoidelaLiberte tried to access the capital: they are blocked by the police on the ring road.
They're Coming From All Over France
Translation: One of the convoys that left from the South of France arrived in Issoudun in the Indre. Convoys left this morning from several cities in the West, North and East of France to converge on Paris.
Translation: Official departure of the #ConvoidelaLiberte Breton from Chateaubourg, several hundred vehicles at the start. Direction Paris.
Translation: Meeting point
Paris Meanwhile
Translation: Installation of riot barricades on the Champs Elysees in anticipation of the coming of the "#convoipourlaliberte" in #Paris.
Translation: Armored vehicles in Paris, police and gendarmes at the tolls of Ile de France, riot barriers deployed, Champs-Elysees and Place de l'Etoile bunkerized, visibly Macron suffers from post Yellow Vests stress.
Translation: Gendarmerie tanks have just arrived in Paris a few hours before the arrival of the freedom convoys in the capital.
***************
Published to The Liberty Beacon from EuropeReloaded.com
https://www.thelibertybeacon.com/the-french-convoys-supposed-to-hit-paris-today-this-aint-ottawa/