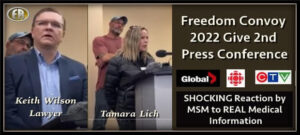 ER Editor: This 2nd press conference, introduced by convoy lawyer Keith Wilson, featuring Tamara Lich and security advisor Daniel Bullford, is very brief, dealing with the demands of the truckers, security concerns, media disinformation, and the GoFundMe situation. It lasts around 16 minutes, although the video runs up to 45 minutes. Of note, mainstream media were prohibited from the first press conference but are allowed into this one. They don't fail to disappoint.
During what can only be described as an altercation following the press conference, Canadian MP Randy Hillier (pictured below left) appears in the room. In an interview, he speaks against the need for any Covid measures: 'There were unknowns back in March of 2020, but there are no more unknowns.' 'This is going to continue. This is what the political class need to realize.' Dr. Paul Alexander (pictured below right) is also present as a science and medical advisor. He declares that there is no need for mandates as there is no difference between the vaccinated and unvaccinated. 'It is time society opens.' Data from several countries, he says, show that the vaccinated are at risk of 'super infections,' who can transmit the virus. Therefore, it's wrong to restrict entry to non-vaccinated truckers. 'This is the data, this is the science.' 'The mandates have no medical, scientific basis.' 'The pandemic is over, it's done. Omicron told you this.' 'It is time to declare the pandemic over and let people go on with their lives.' Dr. Alexander talks about VAERS (US) and Eudravigilance (EU) death and adverse event statistics following vaccination, noting that only between 1 and 10% of these get reported.
It is shockingly clear that a segment of invited mainstream media (CTV, CBC and Global) have no interest in hearing official medical and scientific information such as Dr. Alexander delivers in a post-press conference interview. Once he begins to speak, they walk away.
Readers might be interested in this recent report by Keean Bexte of the CounterSignal, concerning the truckers' security advisor, Daniel Bullford, who was formerly on Trudeau's sniper team. He was let go for refusing the vaccination. See
PRESS CONFERENCE NOTES
Keith Wilson, lawyer with Justice Centre for Constitutional Freedoms: a team of lawyers is on the ground in Ottawa to assist the truckers of FreedomConvoy2022 with all their legal needs. He introduces the participants. All questions at the end will be directed to him concerning the GoFundMe issue.
Tamara Lich: this protest is the result of federal govt restrictions placed on trucker freedoms. Common people are tired of restrictions and mandates put on their lives. Today, Sweden, Denmark, Switzerland, Ireland, UK, Norway and Finland have all removed restrictions. We are calling for this from the Canadian government and governments at all levels. This protest will continue until we see this happen. Saskatchewan premier Scott Moe has taken the lead on this. Nobody from any level of govt has spoken to us; meanwhile, we're being smeared in the media. Members of this movement are average citizens from all walks of life who are fed up of being bullied. Every day, more Canadians are coming to Ottawa. We thank the citizens of Ottawa who have made us welcome, which is what Canada is all about. We will depart when the PM does what is right and ends the mandates. Thank you to thousands who have donated to the GoFundMe campaign. GoFundMe has all the information needed to lift the suspension of our funds. Regular updates will follow. [translation follows in French]
Daniel Bullford (a RCMP officer, who resigned after opposing the mandates; his role is to liaise with police and deal with security issues): people have concerns over the heavy police presence in Ottawa and the equipment they have seen, but it's all standard practice in these situations and no reason to panic (ER: We've seen snipers on very high roofs of govt buildings in video footage). We're working closely with parliamentary security and police. All public safety concerns have been forwarded to the respective police services. His primary concern is individuals and groups who are there to deliberately instigate conflict so as to discredit the freedom convoy movement. We've seen media posts about people being arrested and charged who are associated with our movement. These incidents are not related to members of this movement but have been done by agitators. These incidents have been reported to police. He's seen truckers and supporters feeding the homeless for free, taking trailers of food down to homeless shelters, keeping the streets clean around them, performing garbage collection and snow-shovelling, and keeping two public monuments secure.
GoFundMe questions … [heckler question] The bulk of the money is held by GoFundMe. Because they were bombarded by an orchestrated media campaign to close it down, they are exercising due diligence. … Accountants and lawyers are involved; audit procedures are in place to allow GFM to let the funds flow. When GFM has released the funds, lawyers and accountants are refining the process for truckers and others involved in the convoy to be reimbursed. Then convoy participants can make their claims. (16 minutes)
************
Published to The Liberty Beacon from EuropeReloaded.com
https://www.thelibertybeacon.com/freedomconvoy2022-2nd-press-conference-video/