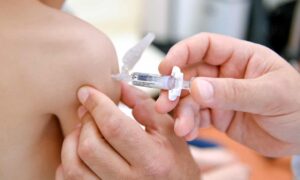 Children's Health Defence – Feb 1, 2022
Through interviews with doctors and scientists. and references to multiple studies, a new video explains why COVID vaccines provide no benefit to young children — but they do pose many, and sometimes serious, risks.
Dr. Michael Yeadon, a former Pfizer vice president and chief scientist, pointed out that when questioned about the safety of mRNA vaccines for children, drug companies claim there's no evidence to show the vaccines aren't safe.
"A lack of data regarding harm does not equal confirmation of safety," Yeadon said.
Yeadon also addressed the November 2021 article in Nature showing COVID is "rarely fatal" in children and, for young people under 18 with no comorbidities, the survival rate is 99.995%.
He also cited an April 2021 article showing children's immune systems are "far superior at clearing novel viruses," and a December 2021 article, also in Nature, reporting children have adaptive "immune systems that naturally generate robust, cross-reactive and sustained immune responses to SARS-Cov-2 …"
Included in the video is a clip of Dr. Robert Malone, who warned parents the decision to vaccinate children is "irreversible."
Malone, a scientist who assisted in the creation of mRNA vaccine technology, explained by injecting a child with the COVID vaccine, "a viral gene will be injected into your children's cells."
He said:
"This gene forces your child's body to make toxic spike proteins. These proteins often cause permanent damage in children's critical organs, including their brain, nervous system, heart and blood vessels, and their reproductive system. And this vaccine can trigger fundamental changes to the immune system."
Once this damage occurs, it's irreparable, Malone said.
Malone questioned why "health bureaucrats" are recommending the mass uptake of a novel, experimental mRNA covid vaccine for children "when serious concerns are being raised" about the efficacy and safety of the product.
He said the vaccines can't be declared safe because there are no long-term safety data.
Still, governments, including Australia, continue to push the vaccine for children, according to the video, noting that decisions are often based on "studies" conducted by pharmaceutical companies themselves.
For example, an article published in November 2021 in the New England Journal of Medicine concluded:
"A Covid-19 vaccination regimen consisting of two 10-μg doses of BNT162b2 administered 21 days apart was found to be safe, immunogenic, and efficacious in children 5 to 11 years of age."
However, that statement was followed by the disclosure that the study was funded by BioNTech and Pfizer.
According to the video, of the 33 authors of the study, 94% have a financial interest in the vaccine makers, 60% were employees of BioNTech or Pfizer and 57% had received payments from the companies or owned stock in them.
Watch the video at the foot of the source page here:
COVID Vaccines Cause 'Irreparable' Damage to Kids' Brains, Heart, Other Organs