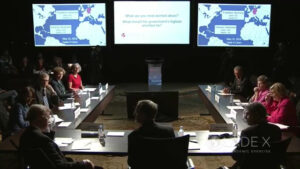 https://www.bitchute.com/video/RdEiUq9fSy8h/
SICK SICK SICK?
Kevin Boyle – No One To Vote For Fri Dec 3, 2021
This post is an edited version of information posted with the 911KeepTalking group by our good friend and colleague, Mark Gobell. I added a bit of forward projection myself.
As Mark has been pointing out for years, the ruling fiends (now) running the COVID operation take their Satanic numbers very seriously.
Because the following sequences are fairly straightforward I think anybody who cares to will understand the following:
DECLARATIONS OF A SERIOUS THREAT
On 30th January 2020 the WHO declared COVID-19 a global emergency.
666 days passed, then we had a new declaration:
On 26th November 2021 the WHO declared the Omicron B.1.1.529 a "variant of concern".
START OF PANDEMIC(S) & CLADE X
On 15th May 2018 John Hopkins University ran The Clade X pandemic tabletop exercise. See 'Mock Pandemic Leaves Millions Dead' here:
666 days passed and then:
On 11th March 2020 the WHO declared COVID-19 to be a "global pandemic".
666 days later:
For Your information, using the same 'exclusive' method of counting days [begin and start date not included] 666 days later is:
6th January 2022
This is the Christian Holy Day called the  "Epiphany" ('day of revelation').
Will January 6th deliver another kind of 'revelation'?
Could this be a good day for Satanists to kick off a new pandemic?
Omicron? Omega? or …
COVID-21? perhaps.
Wouldn't bet against it …
… but, we'll see.
Relevant Links
Watch the video "Clade X Mock Pandemic Leaves Millions Dead", here:
https://www.facebook.com/watch/?v=1210958709045634
https://www.who.int/news/item/30-01-2020-statement-on-the-second-meeting-of-the-international-health-regulations-(2005)-emergency-committee-regarding-the-outbreak-of-novel-coronavirus-(2019-ncov)
https://www.timeanddate.com/date/durationresult.html?d1=30&m1=01&y1=2020&d2=26&m2=11&y2=2021
https://www.who.int/news/item/28-11-2021-update-on-omicron
https://www.centerforhealthsecurity.org/our-work/events/2018_clade_x_exercise/
https://www.timeanddate.com/date/durationresult.html?d1=15&m1=5&y1=2018&d2=11&m2=3&y2=2020
https://pubmed.ncbi.nlm.nih.gov/32191675/
https://www.timeanddate.com/date/durationresult.html?d1=11&m1=03&y1=2020&d2=06&m2=01&y2=2022
Also see: OK, This is Weird: No Movie Theater Listings After January 6
https://halturnerradioshow.com/index.php/en/news-page/world/ok-this-is-weird-no-movie-theater-listings-after-january-6